What if you could eat the wrap of a gift? A double surprise. This is the idea of food wrapping.
As it goes with gifts, technique is important. Finding that right balance between packaging and content. Don't stick your gift in a cardboard box. As you don't wrap food in mere flat bread. 
You can fry or bake involtini. Or even pop them in tomato sauce. 
Here are some Sicilian and Italians answers to the conundrum. With a link to the recipes. Enjoy
2. Involtini di carne, meat rolls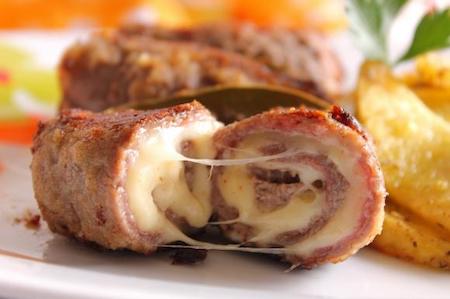 Meat wraps cover a wide range of preparations. What meat do wrap with? Classics are veal and chicken. Mainly because they are tender. When using other meat, tenderize it first. Get your meat mallet out. Or use the bottom of a heavy pot to flatten the meat. Both are marvelously relaxing.
The filling mainly consists of breadcrumb and cheese. With the adding of raisins, pine nuts and onion. Classic among classics? Involtini di Pioppo. Recipe
3. Wrap in fish, swordfish
Swordfish is an anomalous fish. As it has no small bones and little taste. The firm flesh is ideal to wrap a tasty condiment. Creating a pleasant contrast. 
The filling contains mainly bread. Seasoned with onion and capers. To make it truly Sicilian, add squeezed lemon (or orange).  And though cheese and fish are rarely served together, here you can. 
The single rolls are separated with a laurel leave, onion and or sliced citrus fruit.
Various vegetables come as a wrap. As long as they are flexible enough to do the job. Eastern Europe gave us savoy. Italy and Sicily propose eggplant. Fry your sliced eggplant, don't bake. Not only is the result tastier, they obtain the right softness.
There are as many filling as there are cooks. Recurring ingredients are cheese, onion and bread. We propose festive involtini di Norma. Recipe
Other adapt vegetables are zucchini and bell peppers. 
5. Roman wrap: saltimbocca
A classic of the Roman cuisine is Saltimbocca. A tasty wrap with a brilliant name. Saltimbocca translates as jump in (my) mouth.
Finely sliced veal is lightly coated with flour. Pin a slice of raw ham and a sage leave with a toothpick. Fry and deglaze the pan with white wine. 
A quick recipe that has no enemies. Just make sure to remove the toothpicks.