When and what to eat in Sicily is a serious question. The culinary experience is far too important to miss out on.
Sicilians eat all day long, and food is everywhere. Though not all food is available all day long. Most food is time-bound. 
This quick guide makes sure you won't have regrets. The full gastronomic tour may seem demanding. And you may add some weight. Consider it a souvenir from Sicily.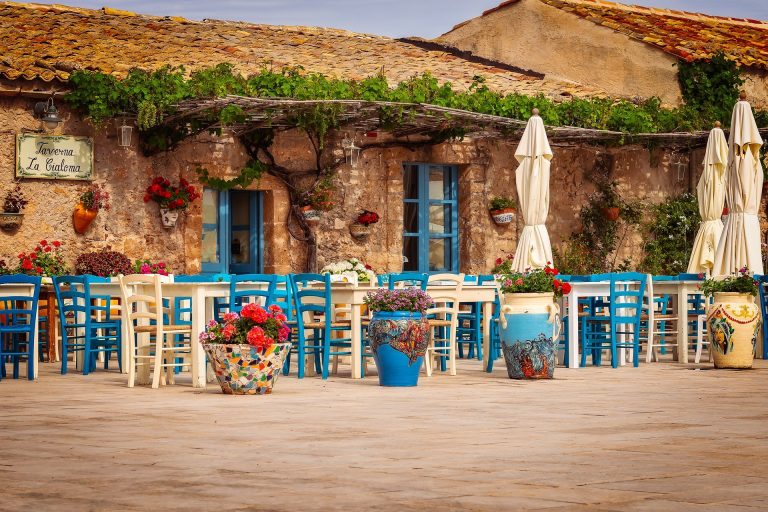 When and what to eat for breakfast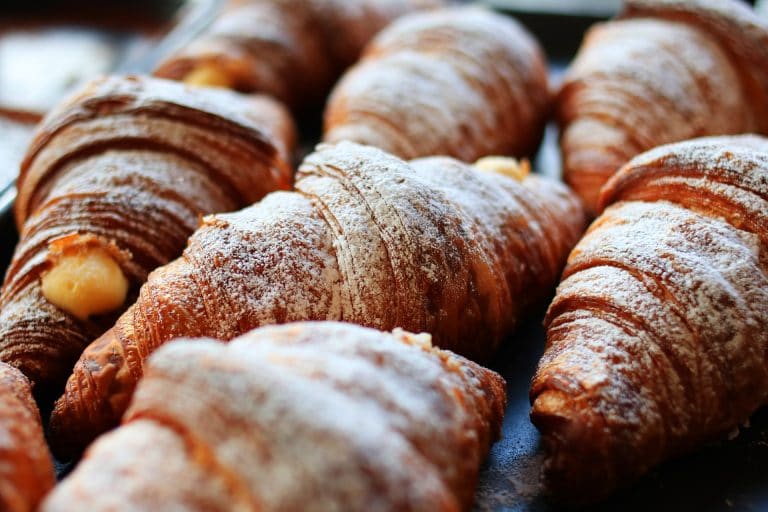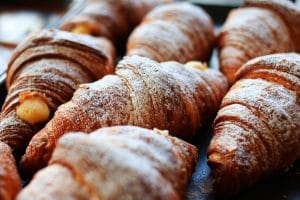 What to eat? Cornetti. Where? At the bar. Sicilians usually have two breakfasts. One at home and one at the bar. Because no matter what coffee-machine-makers claim, cappuccino at the bar is better. And so are the cornetti. They come with a wide variety of fillings. Classics are custard, jam and chocolate. For healthy eaters there is the whole version. Or the empty one.
Bars serve till they run out. Which can be pretty early. Specially in the more renowned ones. Finished or not, cornetti disappear around ten o'clock in the morning.
When and what to eat for lunch
When do you have lunch in Sicily? Not before half past one. If that is latish to you, snack away after breakfast. Have a look at the dedicated section.
Lunch in Sicily has a couple of drawbacks. Early  summer afternoons in Sicily are Sicily. You need shade. And lots of cold water. Not the best circumstances to eat. 
Go easy on lunch if you have afternoon plans. Or let your lunch be followed by a restoring siesta. Call it a power-nap to make it hip. 
Lunch offers more or less what dinner does. So maybe it is not such a bad idea to postpone that substantial meal. Note that some establishments open for lunch only. What places? Trattorie for example. Check the timetable.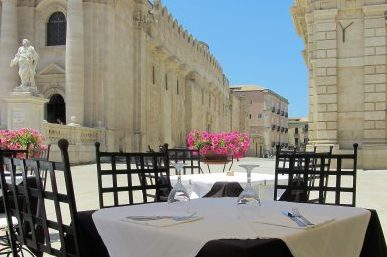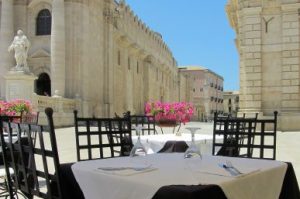 When and what to eat for dinner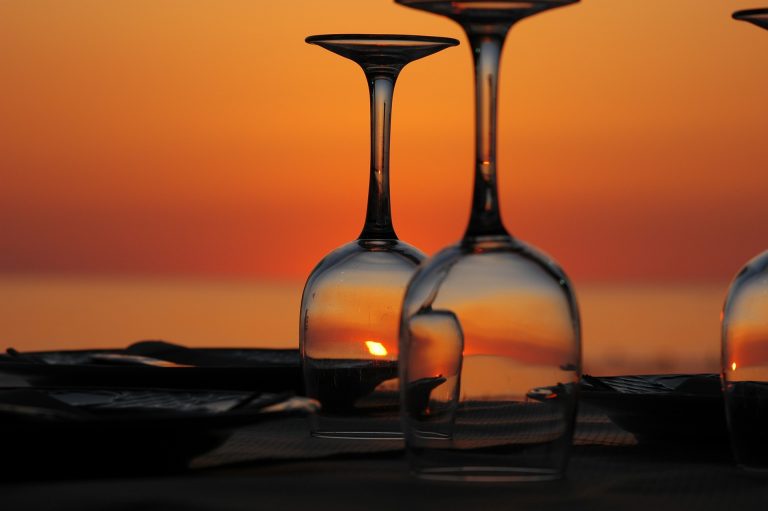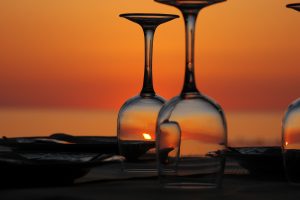 Dinner crowns a busy day. It is a reward for your efforts. Dinner time starts when the sun sets. Early dinner comes at eight. You'll have the restaurant for yourself. Sicilians, specially in summer, don't eat before nine o'clock.
Pizza is dinner food in Sicily. You may find it for lunch, but it is hardly ever any good. 
Dinner time ends late. Having dinner after coming back from the theatre or cinema is no problem. 
It is always better to book a table. Necessary when you are a group. 
Snacks and late night treats
Snacks are everywhere in Sicily. And at all time of the day. Rosticceria is a kind of savory pastry. An ideal midmorning or late afternoon snack. Emblematic is the arancina. A fried rice ball with a tasty filling. Since it are bars selling them, keep an eye on the closing time.
There is no when to eat ice cream. Try it with a brioche. A sweet bun. 
All over Sicily itinerant food stalls offer a variety of irresistible delicacies. From fresh fruit to fried chickpea slabs.   
And late at night cornetti pop up again. They are the favorite food of party-goers on their way back home. And so closing the culinary daily circle.