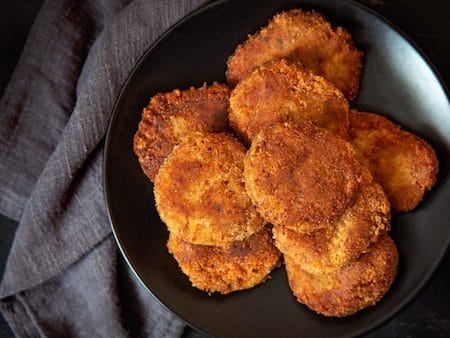 Voglia di Valentina
Truth be told, la signora Valentina does not call these burgers. She calls them polpette di ricotta e zucchine. And she thinks it's funny we eat them in a bun. She'd be upset to see us having them with fresh tomato and pickles. Let alone the ketchup and mayo. Valentina is somehow right. The patties are delicious as they come. 
Prep Time

15 Minutes

Cook Time

10 Minutes

Total Time

25 Minutes

Serves

4 People

Calories

200 kcal
Ingredients
400 grams of zucchini

100 grams of ricotta cheese

100 grams of grated cheese (pecorino preferably)

50 grams of bread crumbs

1 egg

nutmeg, salt and pepper
Instructions
Grate the zucchini and sprinkle with salt
Squeeze them using a tea towel
Add all the other ingredients
Mix and form eight patties
Fry them in a pan with olive oil for about 5 minutes
Or oven bake at 190 degrees for 20 minutes
Serve them piping hot
Notes
La signora Valentina has some precious advice. Let the
ricotta
sit and drain for a day. When using fresh ricotta the patties tend to fall apart. The same goes for the grated zucchini. She squeezes them so hard we felt sorry for the zucchini. To get most of the liquid out, Valentina slightly salted the veggies. Trick of the trade.Can you use other cheese than
pecorino
. Sure, use the cheese you have in your fridge. Regarding the shape, she had this to say. Spheres cook uneven. So flatten the balls  with the palm of your hand. Of your clean hand.Valentina serves the patties piping hot, straight from the pan.