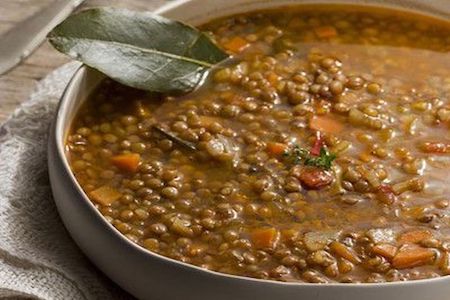 Uplifting lentil soup
Uplifting, comforting, soothing. And highly traditional. Even the bible mentions it as comfort food. How good can a recommendation get? This soup is made in various ways with different types of lentils. This is a classic Sicilian preparation. Feel free to modify.
Prep Time

20 Minutes

Cook Time

60 Minutes

Total Time

80 Minutes

Serves

4 People

Calories

275 kcal
Ingredients
400 grams of lentils

2 liters of vegetal broth

1 big onion

2 carrots

2 stalks of celery

3 tomatoes

2 bay leaves

salt, pepper and olive oil
Instructions
Dice the carrots, onion and celery
Fry in olive oil till tender
Wash the lentils and add them to the sautéed vegetbles
Stir for about 5 minutes and then add the diced tomatoes and bay leaves
Add the broth and let it simmer for 50 minutes
Salt is added at the end
Drizzle some olive oil in the soup right before serving
Notes
Uplifting is the best adjective for this
soup
. It is healthy, tasty and easy, too. As the matter of fact,
lentils
contain a lot of iron. And therefore an excellent replacement for meat. That is a good reason why not to add any. The other being it does not add to the overall taste.Lentil soup gets better overnight. While it sits in the fridge, it gains character. How to obtain an even more uplifting result? Try it with pasta. Short pasta. A wonderful winter dish. One may have bread instead of pasta. Or just spoon away.What shall we drink with this dish? A prominent dish needs a prominent wine. We'd advice a wine made on the slopes of mount Etna. By three youngsters who produce Sicily's future.
Generazione Alessandro
is the company,
Croceferro
the wine.