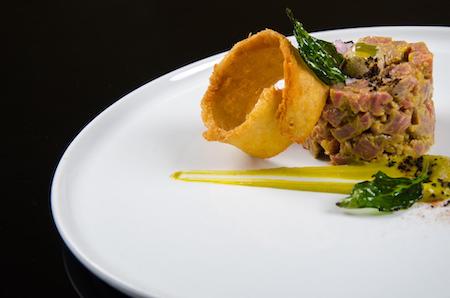 Tuna tartare di tonno
Tuna tartare is easy to prepare. But that is not what you tell your diners. When plated with passion, it is a knock-down dish. A classy dish with a lovely taste. Ideal for an aperitif or starter.
Prep Time

10 Minutes

Cook Time

30 Minutes

Total Time

40 Minutes

Serves

4 People

Calories

275 kcal
Ingredients
400 grams of tuna

4 spoons of olive oil

Lemon zest

Lemon juice

A pinch or salt and pepper
Instructions
Cut your tuna in strips with a sharp knife
Then dice the strips, in about half a centimeter cubes
Add the salt, pepper
After ten minutes add the grated lemon zest
Let it sit in the fridge for about half and hour
Add the lemon juice just before serving
Notes
Tuna tartare is an easy recipe. The outcome depends on the freshness of the ingredients. In our version there are no herbs added. Something you can do, of course. Fresh oregano and or
parsley
for example blends in fine. Mint on the other hand tends to be a tad too prominent.Use your best olive oil for this recipe. And as an alternative, go for sesame oil.How do you serve tuna tartare? First of all, this is not a main course. That would be too much of the good stuff. Serve it during an aperitif or as a starter.The smoothness of the fish contrasts wonderfully with toasted bread. We recommend
Nerello Mascalese spumante brut
by Coppola for this dish.Make sure you freeze your fresh tuna for three days. That way you avoid the presence of the
anisakis
parasite.