Triumphant but a tad dangerous. Raw tuna may contain the anisakis parasite. Therefore freeze your tuna for at least three days. Or buy your tuna frozen. 
Is it worth all this? Oh yes, it definitely is. Only the best tuna comes raw. And the higher the quality, the fewer the condiments it needs. 
And yet only few cuisines feature raw tuna. Mainly because originally you needed fresh fish. Nowadays much of the tuna is frozen aboard. Secondly because of the expertise needed in cutting it.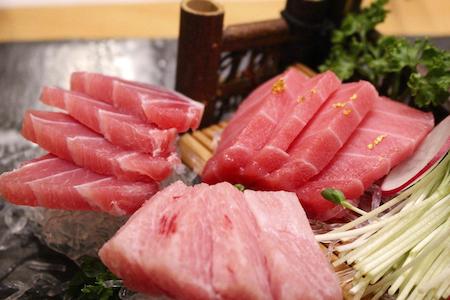 2. Triumphant Tuna Tartare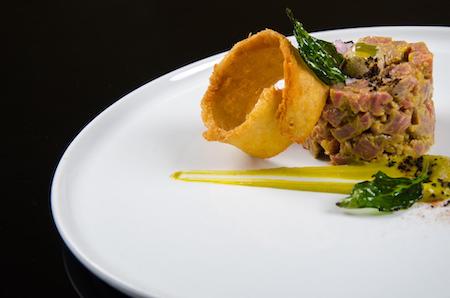 Tuna tartare is always triumphant. As it is no more than lightly seasoned  fish. Tartare usually has an oily and acid factor. The Sicilian version comes with olive oil and citrus juice. Capers come in handy to take care of the saltiness.
Once again, the higher the quality, the fewer condiment it needs. 
Use a sharp knife to dice your tuna. And do not mince or grind. That way it loses one of its characteristic: texture. Good tuna has a bite to it. A gentle, charming bite.
Is a steak really the best meat? The fact many people adore and ask for it may confirm this. But also burgers and fries are widely asked for.
As it goes with beefsteak, tuna often comes undercooked. With people actually using the same terminology they'd use for meat. Rare, medium and well done.
Tuna does not become chewy when fully cooked. And yet, great effort goes to undercooking it. The visual result is triumphant. Taste-wise it is confusing, hesitating on what it wants to be.
4. Triumphant Mediterranean Tuna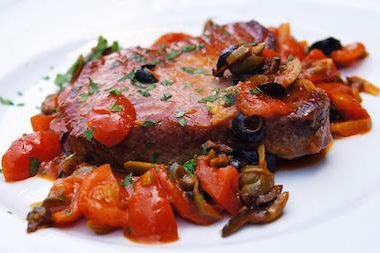 Sicily has a strong bond with tuna. Historically they catch and  transform tuna in preserves. The tuna season is brief and so it the time to have it fresh. 
That is why there are actually few Mediterranean recipes for fresh tuna. The ones we have are truly triumphant. As tonno al agrodolce. Or this tonno alla ghiotta. With tomato, olives and capers. A preparation not only reserved for swordfish.
Fresh tuna is precious. So treat it with the maximum respect. Covering it with strong sauce or flavor is frankly kind of a waste.
We stumbled upon this dish and loved it. Condescendingly stated it is a variation on tuna tartare. With the adding of what distinguishes a taco. Lime juice, fresh coriander, some chili pepper and raw onion. All tucked away in a crunchy taco shell.
This is a guaranteed success for a quick snack. Or an amazing aperitif. Served with sparkling wine or ice cold beer. One last time: triumphant!