Square tortello filled with braised veal, hiding shrimp and featuring porcini mushrooms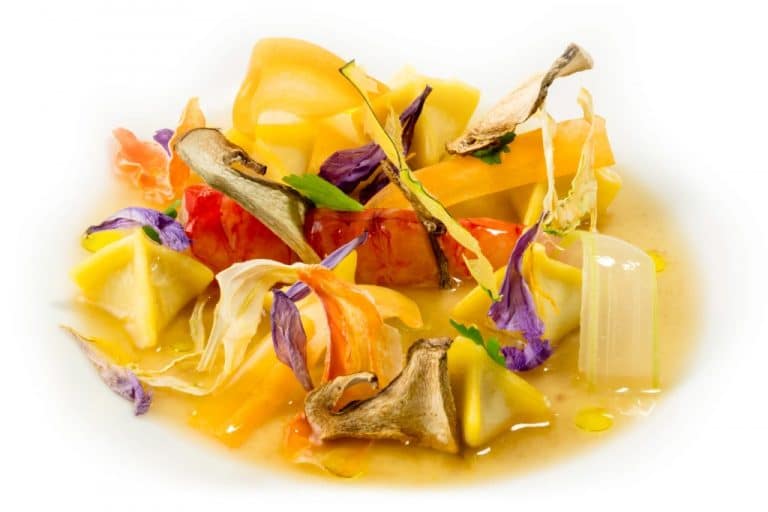 Photo credit: Antonio Curti
A tortello at 'Il Bavaglino' restaurant.
A complex dish, uniting land and sea. This dish depicts the variety that characterises Sicily very well. The tortello enshrining veal, hides the local fished red shrimp. Which is served raw. The porcini mushrooms -broth and chips- unite wonderfully in this Sicilian composition by Giuseppe Costa
Dough for the tortello and broth
Dough for the tortello
Thoroughly knead 350 g of wheat (semolina), 40 g of oil, 40 g of water, salt, 2 whole eggs and an extra egg white.
Broth
Start with cold water. Add celery, carrots and porcini mushrooms. Boil for 30 minutes.
Marinate  the veal cheek in red wine, celery, carrots, onion, rosemary, thyme and laurel for 24 hours.
Sear the veal and add the liquid it marinated in, together with beef stock. Cover and let it simmer away. When fully braised, grind the meat using a meat grinder. Blend with ricotta cheese. 150 g of ricotta for 350 g of meat. This will be the filling for the tortello.
Roll out the dough.  Scoop the braised veal mixture on the sheet and cover, forming a square tortello. Boil the tortelli for 5 minutes. Drain and transfer them to a small pot. Add  some of the water they boiled in, a little butter and EVO oil. Stir until creamy.
Place the cleaned raw shrimp on a plate. Followed by the 'tortello', dried porcino chips, and thinly sliced carrots and celery. Garnish with dried flowers. Then add the porcino mushroom broth.
The structure of this particular dish is fairly average, with a tendency toward sweet notes due to the tortello and shrimp. The excellent succulence and fragrance match a persistence intense aroma.
This dish is ideally paired with a well structured wine yet fresh wine. A traditional method made rosé spumante would be perfect. A Franciacorta rosé, or since we are in the territory, a Etna Doc rosé.