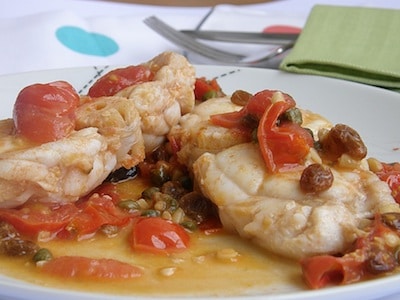 Toad Tail, coda di rospo
Toad tail, coda di rospo or Fisher Frog, rana pescatrice. That is how Italians call monkfish. Although not a looker, this is a very tasty and interesting fish. Firm flesh that somehow reminds lobster. No small bones that annoy children and fussy eaters. 
This Sicilian recipe is easy to prepare, once you get the ingredients together. 
Prep Time

10 Minutes

Cook Time

15 Minutes

Total Time

25 Minutes

Serves

4 People

Calories

150 kcal
Ingredients
1 kilogram of toad tail, filetted

150 grams of cherry tomatoes

2 cloves of garlic

30 grams of salted capers

50 grams of black olives

50 grams of flour

Oregano and basil

four anchovies

EVO

Salt and pepper
Instructions
Rinse the capers and anchovy
Slice the filleted toad tail, about a finger thick
Add EVO and the anchovy in a pot
Gently heat till the anchovies dissolves
Pass the toad tail strips in flour and add them to the pot
Stir before adding the cherry tomatoes (cut in four)
Followed by the capers and olives
Let it simmer for about 5 minutes
Add the oregano and basil and leave it for another five minutes on a low fire
Notes
Coda di rospo, toad tail is a wonderful product. There are two elements that should not be overlooked. The first one regards the taste. Also known as 'poor people lobster' it is very subtle. It needs
little
sauces or condiments. Just as it happens with lobster. The second element is the cooking time. Keep it short. Overcooked monkfish becomes chewy. Not what you want.This recipe asks for salted
capers
. They can not be substituted with pickled capers. Whereas green olives may take the place of the black ones. If your guest do not like
garlic
, fish it out before serving.Avoid preparing this dish with wine. Better have a nice chilled white wine while eating.