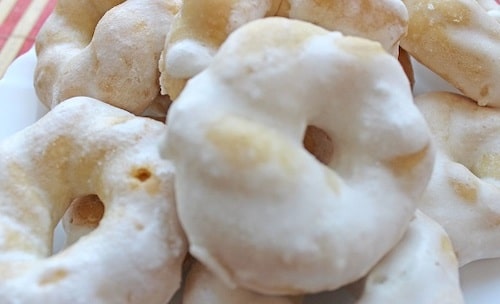 Taralli Siciliani
Taralli Siciliani are different from the classic Apulia ones. They are oven baked and glazed. Taralli are emblematic for the first days of November, when the deceased are remembered. Mind you, as you will see later on, they aren't the lightest amongst biscuits.
They are excellent with an afternoon cup of tea or coffee.
Prep Time

20 Minutes

Cook Time

30 Minutes

Total Time

50 Minutes

Serves

8 People

Calories

300 kcal
Ingredients
1 kilo of all purpose flour (Italian 00)

300 grams of castor sugar

200 grams of lard

4 fresh eggs

10 grams of yeast

1 teaspoon of anise seeds

10 grams of baker's ammonia

1 lemon

salt and milk qb

Glazing: 500g of icing sugar, 3 lemons, 50ml milk
Instructions
Sift your flour in a large bowl
Add softened lard and the other ingredients
Add a little milk and mix till obtaining a smooth dough
Let it rest for about ten minutes before transferring to the work table
Roll the dough and form serpentine strips, as children do with play dough
Cut about 1cm thick, 8 cm long pieces
Twist two strips together and shape them in a ring form
Bake for about 30 minutes at 180 degrees
Let them cool down and apply the glazing
Glazing: mix icing sugar, milk and sugar thoroughly
Bake the tarelli Siciliani for another 5 minutes at 150 degrees
Notes
Taralli Siciliani are festive biscuits. And though they come with
i morti, 
the first two days of November, you can find them all year round. Instead of using lard, one can use butter. Alas, close but no cigar.Instead of using anise seeds you could use
anise extract
. In your dough as well as in the glazing.In bygone days children in
Sicily
received gift for
i morti. 
Toys, taralli and sugar puppets. That and the mere delight might explain the popularity.These biscuit are excellent with afternoon tea or coffee.