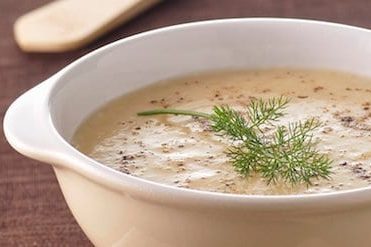 Surprising soup
Surprising fennel and potato soup. Yes indeed! What may seem aberration is actually interesting and surprising. Both fennel and potato grown underground. The soup includes thus all four elements: earth, water, air and fire. Specially when you serve the soup piping hot. Instead of real milk, you may use almond, coco or soy milk. Or add a cup of heavy cream.
Prep Time

15 Minutes

Cook Time

45 Minutes

Total Time

60 Minutes

Serves

4 People

Calories

150 kcal
Ingredients
1 large or two small fennels

4 small potatoes

1 large onion

Half a liter of whole milk

1 liter of vegetable broth

Olive oil

Salt and pepper
Instructions
Slice the fennel and onion
Dice the potatoes
Transfer the vegetables to an over tray and sprinkle with olive oil
Bake at 195 degrees for about 15 minutes
Make sure the vegetables brown but not burn
Transfer the surprising to a pot and add the liquid
Bring the soup to a boil for 10 minutes
Blend with a hand held mixer or use a blender
Serve them hot
Notes
Surprising
soup
indeed. This velvety soup is an excellent starter for an
elegant
meal. But tastes as good spooned from a cup in the couch.
Fennel
gives sweetness and a hint of aniseed. The
potatoes
do what they do best: filling.Instead of whole milk one may use substitute '
milks
'. Almond, soy or even coco. As for seasoning it is better not to add anything more than salt and pepper. Maybe some fresh ground roasted fennel seeds. It is of vital importance to brown the vegetables in the oven. This surprising effect -the
Maillard
reaction - enhances the taste. Avoid burning at all cost.What to drink with this soup? Try to resist opening a bottle of wine. Have yourself a nice glass of water. And be prepared for the surprising effect of water and fennel.