Summer queen. If there were a distinction between vegetables one could eat raw and other that need to be processed, the aubergine would crown the list of the latter. Potato and pumpkin following with dignity. Whether out of irony or rather as a warning, Italians call the dark vegetable 'melanzana' which could translate as 'bad apple'. It is, when eaten raw, slightly poisonous and extremely unpalatable. Sure it's a queen?
In Sicily the harvest period is long, originally covering the period from June to October. With modern alchemy the season is stretched even further and now almost covers the whole year, excluding the winter months. They can be dried in summertime and then prepared in winter. For those who can't live without the queen.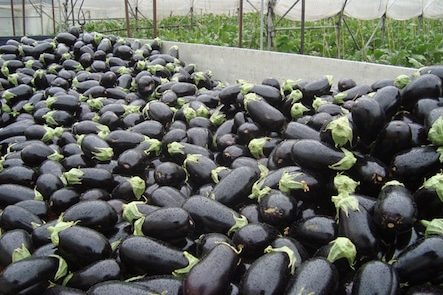 The aubergine is a quite easy vegetable to process. Acting like a sponge it sucks up surrounding liquids and flavors. They are notorious for absorbing oil. As said before, they cannot be eaten raw, but on the other hand, any form of heating does the trick.
Usually the aubergine is first sliced up and sprinkled with salt and left sitting for some time – from an hour on. The bitter liquid it contains will emerge and can, with some artless dabbing, be eliminated. This is a necessary step when you are going to fry your aubergines: water and hot oil do no like each other.
Make sure to remove as much water as possible before you start frying: it makes the boiling oil splatter, the results in soggy aubergines since the remaining water boils inside the vegetable. Try to keep the temperature of the oil under 175 degrees and take your time. Use olive oil to fry in. The queen deserves that.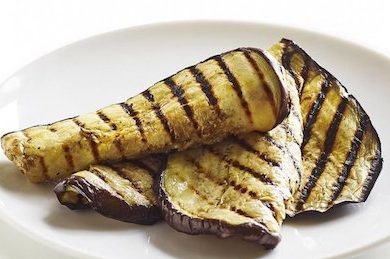 Easy peasy: one side, then the other. Aubergine cooks quite quickly but do not undercook them. Avoid seasoning them in advance. A drizzle of oil, some mint or other herbs are enough to obtain Mediterranean touch. They tend to be better the following day, eaten cold.

Although it does have a proper taste, added ingredients usually take the honors. Perfectly aware of being on thin ice, a certain similarity with tofu comes to mind: they need preparation. Both have a quite neutral taste that allows you to build on. A queen needs a king, right?
Aubergine balls - polpette
I somehow feel sorry for proposing this recipe. As introducing innocent people to drugs, knowing they'll never get rid of them. Aubergine polpette are tasty, quick and seducing. You can add what you have left in fridge. Polpette are the last call for ingredients with one foot in the trashcan. Let's stick to aubergines just now. There are two distinctive ways of preparing them here. One is by cutting them up in cubes and boiling in salted water. It is fast and the bitterness is eliminated. The downside is the presence of the dark skin. The second method is roasting the whole vegetable in the oven. It is then peeled. Pretty easy too. No dark skin but a decisive bitter touch to the pulp.