1. Pani ca' meusa - an interior street food panino
This iconic street food panino is Palermo's pride. And most habitants have their place where to have 'pani ca' meusa'. The smell these stands emanate is, let's say, typical. Boiled spleen and lung are cut up and fried in lard before transferring it on the sandwich. It is up to the street artist on how much lard he'll add. You can choose between 'single' and 'married'. A squeeze of lemon and some pepper represents he lonely heart club panino. The married version comes with grated cheese or ricotta.
Price: 2/5 euro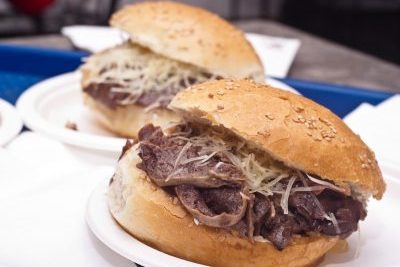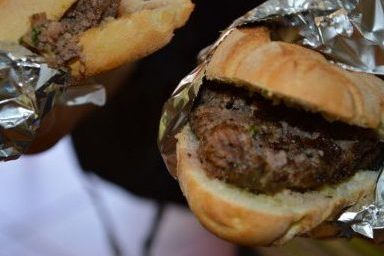 A street food panino form Catania. They sure like their horse meat. Among many other things of course. A recurring element – for street food in general, outspoken here – is the credo that the grubbier the stall, the better the food tastes. The meat is either beaten till tender or minced and made in meatballs. Indispensable is the salmoriglio (sal-moo-reeh-yo), a mix of olive oil, lemon juice, garlic and loads of oregano. While the horse meat sizzles away, it is brushed with this magic liquid. And they use the same salmoriglio to season the panino.
Price: 3/4 euro
3. Street food panino: panelle
A monument in the culinary landscape. So simple and yet so enormous. Rectangular slices of chickpea dough are fried on the spot and transferred in a sandwich. Some salt, a squeeze of lemon and you're ready to go. You can find the itinerant carts selling panelle wherever people gather. The beach in the summer, when the school bell rings in winter, when there's a manifestation: the 'panellaro' is there. An interesting variation are the so-called crocchè, potato croquettes. They also come as cazzili, little pricks. You have this in a street food panino or without bread. 
Price: 2 euro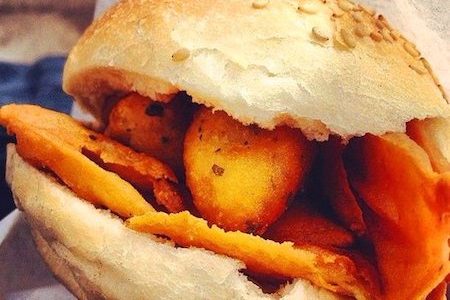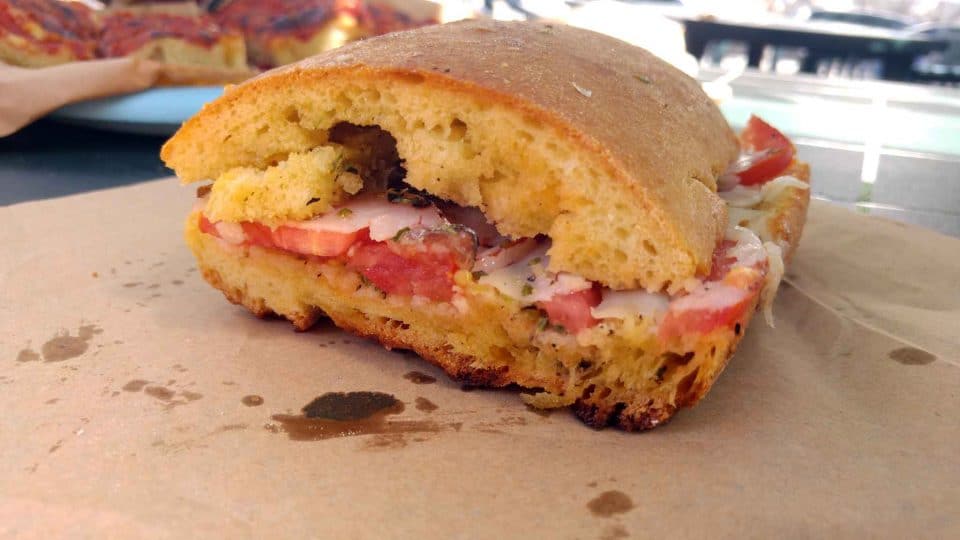 With pane cunzato bread is the most important ingredient. The seasoning may vary but usually is limited to good olive oil, sliced tomato, anchovies and cheese. Leaving out an ingredient is tolerable, adding is rather risky and sincerely unnecessary. This is how close a sandwich will ever come to perfection.
This sandwich originates in the province of Trapani. Call it lunch, call it a snack. It is a street food panino after all.
Price: 3 euro
5. A cold street food panino: la brioche
In Sicily there are three ways to have your ice cream. In a cup, on a cone or in a sandwich. Well, more than a sandwich it is a crustless brioche like bun. Have it filled with up to three kinds of ice cream. Two is more usual, one a trifle undecided. The real dilemma is whether to have it with whipped cream or not. In western Sicily brioche and granita is a culinary monument. They are though eaten apart. Spoon your way through lemon, coffee or almond granite, nibbling on your 'briosce'.
Sicilians have their ice cream on the street. Hardly ever sitting down. Making this a street food panino.
Price 2.5/3 euro