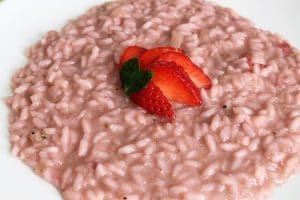 Strawberry risotto
This is not a rice pudding. Risotto is a wonderful way of preparing rice. It is usually yellow due to the adding of saffron. The pink version may cause frowns but tastes delicious. Excellent dish to surprise and bask in admiration.
Prep Time

10 Minutes

Cook Time

25 Minutes

Total Time

35 Minutes

Serves

4 People

Calories

350 kcal
Ingredients
360g of rice (preferably carnaroli)

300 g of strawberries

1 litre of vegetable broth

50 g of butter

1 glass of white wine

60 g of grated cheese

1 onion
Instructions
Fry the diced onion in about a third of your butter
Add the rice, letting it absorb the butter
When the rice turns translucent, add a ladle of broth
Continue stirring and adding broth for 12 minutes
Then add the hulled and diced strawberries
Stir and add broth for about five minutes
Turn of the heat, add butter and cheese and stir
Serve with some chopped strawberries
Notes
Strawberry
risotto
is an
unusual
dish. At least, the strawberry seems a little out of place. Because the preparation of risotto does not alter.The
sweetness
of the strawberry dissipates during cooking. What is left is a rather tart yet pleasant taste. It only reminds the summer fruit. There are quite some options with this dish. Replace white wine with
prosecco
for example. Or
champagne
! Just think on the name! 'Champagne strawberry risotto'. Risotto is often prepared with
parmesan
cheese
. You might try using a different cheese. Pecorino, Brie, Taleggio or even Gorgonzola. Some add cream. This tends to cover the overall taste. I'd advice to master the technique  of '
mantecare
'. Stir, stir and stir until your risotto becomes creamy.It is important to keep adding the broth bit by bit. It should make a
hissing
noise every time you add it. Make sure your broth is hot.