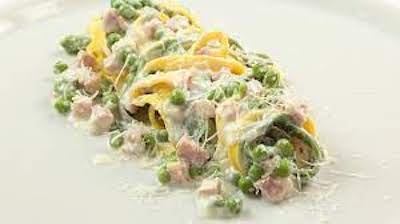 Straw and hay, paglia e fieno
Straw and hay pasta is a classic in the Italian cuisine. Although the name refers to the color of the pasta (yellow straw, green hay), the preparation is one. To today's standards it is a heavy dish. At least in Italy. But served once in a while, it only knows happy faces.
Prep Time

15 Minutes

Cook Time

10 Minutes

Total Time

25 Minutes

Serves

4 People

Calories

250 kcal
Ingredients
250 grams of straw, 250 grams of hay pasta

200 ml of cream

100 grams of ham

50 grams of parmesan cheese

50 grams of peas

Half an onion

30 grams of butter

Salt and pepper
Instructions
Sauté the chopped onion in butter
After a couple of minutes add the diced ham
Stir and add the peas
Let it simmer for about five minutes
Add the cream and then your fresh boiled pasta
Top off with the cheese and serve hot
Notes
Straw and hay pasta is an easy dish to
prepare
. No use over-thinking this recipe. It is as straightforward it hurts. Using fresh peas for example is not going to improve the dish much. For exactly the same reason, use normal run-of-the-mill ham.Pasta paglia e fieno is a family dish. It hardly ever comes with wine. If you can't eat without wine, go for a full bodied one. Red, rich in tannin. This dish is so steady children can have it with a soft drink.What can you add? Mushrooms resist. Bacon on the other hand results a trifle to present. There is no room for 'prime donne' here.