Strawberries and oranges follow each other up chronologically. For a short period they lay together at the greengrocer's. Which is a pity. Because cut up strawberries steeped in orange juice are quite a show.
Although nature provides for all goodness, some keep adding. It is an occasion to get the Maraschino out of the drink closet. While mint leaves deliver the whole with even more freshness. 
Strawberries bring a smile to a barbecue event. Not as a wall-to-wall dessert only. Skewer and season them with salt and pepper. And keep the grilling time to a minimum. They are go to go when displaying dark grill lines.
They are excellent compony for roasted pork meat. Delivering sweetness and tartness at the same time.
The dessert version asks for sugar instead of salt. Do not leave the pepper out though.
Waiter, there's a strawberry in my salad
A salad with strawberries is never simple. The mere presence makes such a salad royal. Much as champagne does with cocktails.
Use barely ripened fruit. Because what you are after is tartness more than sweetness. Firm fruit adds to a salad. Mush fruit on the other hands wilts.
A special mention goes to fresh goat cheese. Or fresh cheese in general. The bond with strawberries is celestial. 
It used to be a secret. Balsamic vinegar and strawberries are a match made in heaven. Truth be told, balsamic vinegar happily marries many ingredients.
Spicing fruit up is indeed interesting. Freshly ground black pepper lifts the strawberry to a whole new level. As does chili pepper, but with less elegance.
Spiced fruit is more than a mere fancy dessert. It is ideal as a side dish or eaten between courses.
Strawberries and chocolate
Strawberries and chocolate are a perfect couple. Mainly because they are complementary to a very high extent. Soft fruit, a hard coating. Sweetness laying in the safe cover of bitterness. Fresh fruit embracing the tenability of chocolate. Even the colours contrast nicely. 
A special thanks goes to Lorraine Lorusso. For she started dipping strawberries in chocolate first. Somewhere in the 60's. Hip hip hurray for Lorraine.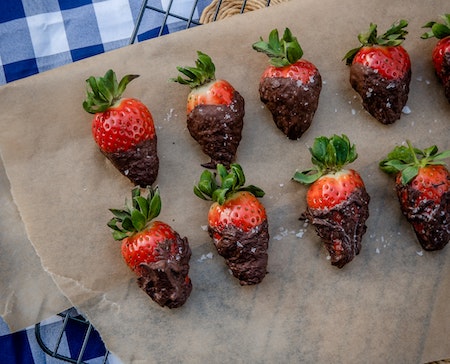 Risotto con fragole, strawberry rice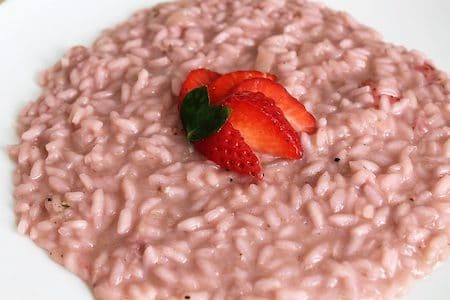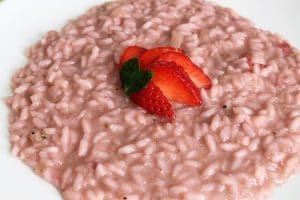 Don't let the appearance fool you. This is indeed a savoury dish. As risotto always is. More than a dish, risotto is a way to prepare rice. With a lot of stirring as its main character. And creaminess as the result.
Very popular in the Italian eighties, the dish lost some of its sheen. A pity, really.
The pink strawberries version may cause frowns but tastes delicious. It is an excellent dish to surprise guests and bask in admiration. Here's a recipe.