Spaghetti alle vongole is an Italian classic. With two key ingredients as the name suggests. Spaghetti are far the best kind of pasta to prepare this dish with. The clams used for this dish are vongole veraci or Venerupis decussata.
You can tell them apart from other clams by the grooves in their thick shell. And for the fact that they are triangolar.
It is of utter most importance to clean the clams. One sandy clam ruins everything. So tick them against a wooden board before letting them sit in water for at least an hour.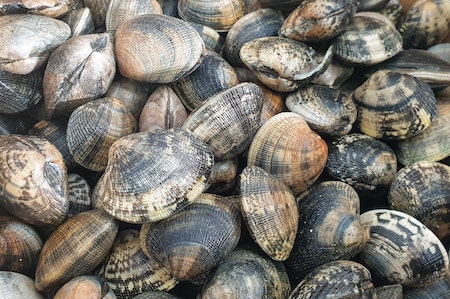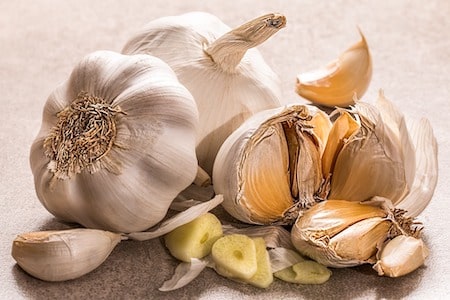 Frying roughly chopped garlic -or even just cloves – in olive oil. That is the start of your spaghetti alle vongole. As soon as the garlic begins to colour, add the clams.
In an ideal world you pick the opened clams and set them apart. That way they don't have the chance to overcook. Or you just wait for all of them to open. 
Remove the clams from the pot and set them aside.
There is quite a heated debate on when to add parsley to Italian dishes. Some claim cooked parsley tastes bitter. Others say it adds dept to dishes. 
For spaghetti alle vongole we add half the parsley when sautéing the clams, the other half fresh, before serving.  Don't leave it out. Parsley balances the garlic perfectly.
Use flat leave Italian parsley for this dish. Prezzemolo, as known in Italy. In the worse case scenario, use frozen parsley rather than French or curly parsley.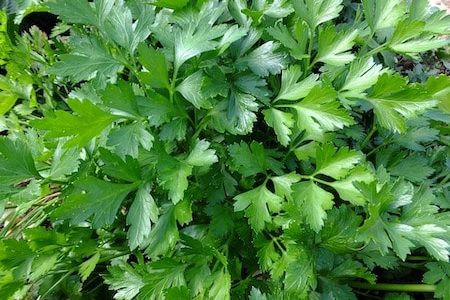 Spaghetti alle vongole with tomato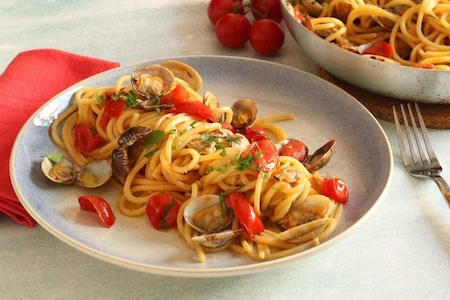 More debate about the presence of tomato. The acidity of tomato does indeed influence the texture of clams. And too much tomato covers the subtle taste of spaghetti alle vongole. 
On the other hand, chopped cherry tomatoes look really good with this dish. So instead of serving it with tomato sauce, use roughly cut tomatoes. And don't overcook them. 
Spaghetti alle vongole, not with shells
How many shells does a good spaghetti alle vongole features? Some serve all the clams unshelled. Which indeed looks rustic and leaves nothing to the imagination. What you see is what you get.
But while you remove the clams, your pasta cools down. So it is nice to serve the spaghetti with some shells, but shell most of them before serving. Not only is it easier to eat, the clams mix and enrich the pasta better.