A grim gift: testa di moro
Are you looking for souvenirs with a story? Then listen to the story of this nice vase. In the year 1000, in Palermo a girl is watering her plants. A handsome Moor notices her. And they do end up sleeping together.
When it turns out the Moor has wife and kids back home, things turn nasty. In a fit of anger the girl kills the man. And uses his cut of head as a vase to grow basil in. It grew so lush and scented neighbors start using similar vases.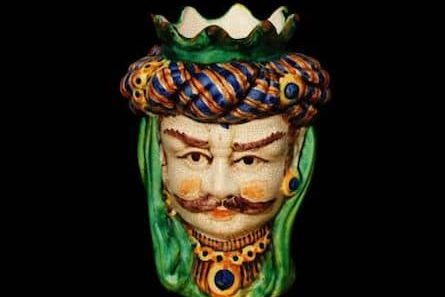 Souvenir amongst souvenirs: il carretto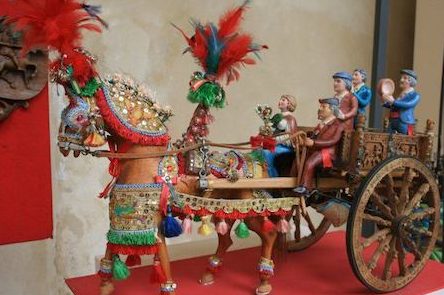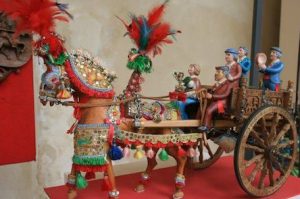 Once a mean of transport, now among the most popular souvenirs. The carts are characterised by the use of bright colours. Two side panels display saints, paladins and scenes from 'Cavaleria Rusticana'. It is not always clear what they want to express. As Guy De Maupassant said: they are a moving rebus.
They are now often used to attract tourists. And why not. Excellent for selfies indeed.
Intermezzo of Cavalleria Rusticana, video
Alas, there are these wrong souvenirs. Which brings us to the chicken and egg question. Are they there because tourists seek them or vice versa. Mafia related object are an insult to common sense. And to the Sicilian society. There is little to nothing heroic about these criminals. Please, avoid.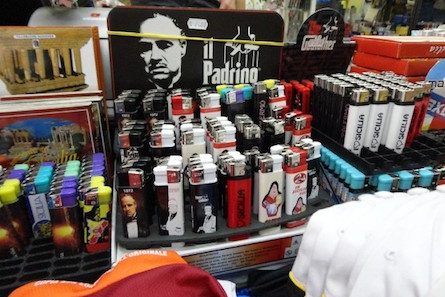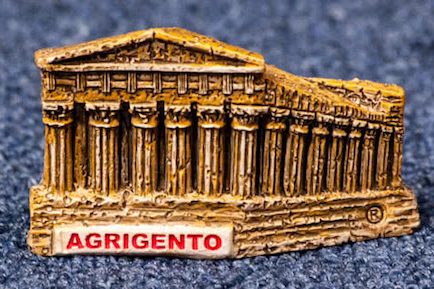 Temples, buildings and landmarks. They are excellent souvenirs. Don't forget to visit them though. Selenunte, Segesta, Argigento. Not to forget the black lava stone object from mount Etna.
Start making space on your fridge, the magnets are coming home.
Sicilian pottery and majolicas are unique. It has been influenced by many occupations. Ranging from Phoenician to Greek, from Arab to French. The mayor producing cities are few and all distinctive. Sciacca, Caltagirone, Santo Stefano, Burgio. The coloured tiles often come as magnets, hence souvenirs.