Instead of Simply Red, Mick Hucknall's winery is named 'Il Cantante'. The singer. 
He produces his wines on the slopes of Mount Etna. A wise choice apparently. Although since times immemorial, it is now being rediscovered. 
Mick Hucknall produces three wines. Two reds and a white. The town of Sant'Alfio lays at 800 meter above sea level. Ideal for winemaking says Hucknall.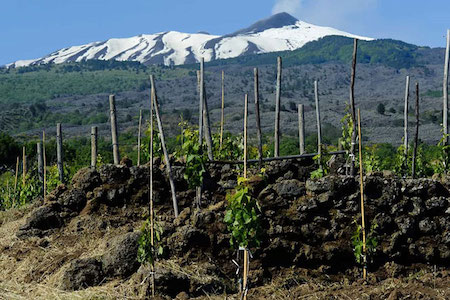 The terroir of mount Etna is simply unique. With 3,350 meters it is Europe highest volcano. Snow on the top, a deep blue sea at the base. Characterized by black igneous rocks and a micro climate. Vineyards hang between the sky and the sea. 
It is not the easiest place to grow wine. But those who manage know it is worth the effort. Resulting in magnificent red and seducing white wines.
Hollywood royalty in France. The former couple Jolie Pitt purchased an estate in France, Provence. A mansion, vineyards, the whole bunch. According to experts Chateau Miraval produces a decent wine. Hard to check because they are sold out.
French actor Gerard Depardieu instead is selling his wineries. Too many taxes drove him to become a Moldavian citizen. No more red wine for Gerard, please.
Why crossing the ocean when you can produce wine in your backyard? That's the new American idea. Francis Ford Coppola and Drew Barrymore in California. Donald Trump produces Trump wine in Virginia. Kyle MacLachlan in Washington.
The Beckhams too produce wine. Not in neighboring France or nearby Italy. But in Napa valley. Seems the winery was David's gift for Victoria's 34th birthday. Hic hic  hurray.
Many celebrities decided to produce wine. Or at least to invest in wineries. Adorn them with their famous names. 
Instead of Moet Chandon or Veuve Cliquot you may now pop a bottle of Jay-Z. Or sip on your Sarah Jessica Parker's rosé.
Who told you good wine does not need a name?