When talking about Sicilian rice dishes, one starts with arancine. Or arancini. Female in Palermo, male in Catania. One of the silliest feuds in history.
Boil rice in broth and some saffron. There are three traditional fillings. Burro: bechamel, ham and mozzarella. Carne: Bolognese like sauce with peas. Spinaci: spinach.
Today only imagination limits the offer. Curry, shrimp, alla Norma. Any new ideas? You try, we fry.
Sicilians eat them all year round. But the real boom occurs at Saint Lucy, December 13.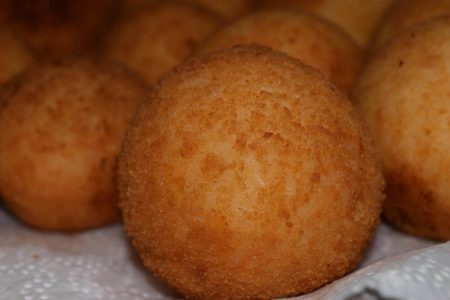 2. Sicilian rice dishes: risottos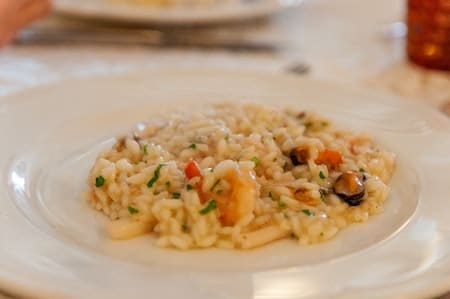 Risotto in general is not a typical Sicilian rice dish. Moreover, it is a way of preparing rice. So all dishes containing typical Sicilian ingredients, become so.
A classic among classics is risotto with wild fennel. Though sea fruit risotto is just as prominent.
Others are eggplant risotto, olive risotto and crustacean risotto. The latter often contains also a fair amount of citrus fruit. 
Timballo or torta is a festive dish. And the ingredients agree. Rice is mixed with minced meat, tomato sauce eggs, cheese and eggplant (which makes it Sicilian). Mix all ingredients together. Except for the eggplant and cheese.
Some replace the meat with mozzarella and obtain a vegetarian version. 
Cover a cake form with fried slices of eggplant. Alternate layers of rice with cheese. And finish with an outer layer of fried aubergine. The whole goes in the oven for about 20 minutes at 185 degrees C.
4. Sweet Sicilian rice dishes: Riso nero Messinese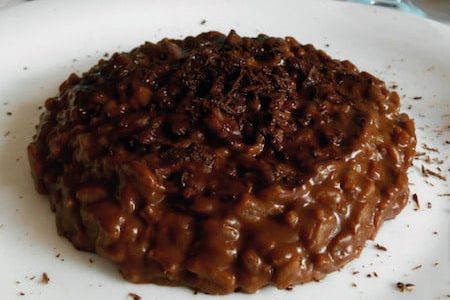 This Sicilian rice dish comes from the East coast (Messina). People prepare it to honour the Madonna of Tindari. A black Madonna. As for Saint Lucy.
Let milk heat in a pot and add unwashed rice. You need the starch to let it set. Add cinnamon, cocoa and chocolate while mixing. Finish with finely grated orange zest.
The dish could be ready. But not in Sicily. Next come toasted almonds and candied fruit. Recipe
5. Riso al nero di seppia, black squid rice
This is a variation on the well-know pasta dish.
It is as the matter of fact a risotto dish. And it starts off by frying onion in olive oil. Next in goes the rice and a dash of white wine. Half way through come the cut up squid. By the end the ink and chopped parsley.
Instead of mixing in butter, use a couple of spoons of olive oil. Butter tends to cover the delicate taste of squid.
Serve piping hot, with a bib.