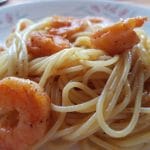 Shrimp spaghetti according to Tanina
Having Tanina's shrimp spaghetti is a treat. Whereas she gladly cooks for guests, she reluctantly shared the recipe. We convinced her saying this was a good deed. Pleasing so many won't go unnoticed. It would assure her a place in paradise. Where she'd meet all those eating her spaghetti dish. Because it is a non-stop ticket to paradise. Thanks Gaetana!
Prep Time

10 Minutes

Cook Time

20 Minutes

Total Time

30 Minutes

Serves

4 People

Calories

175 kcal
Ingredients
350 grams of spaghetti

750 grams of shrimp

1 lemon

2 cloves of garlic

half a cup of white wine

parsely

olive oil

salt and pepper
Instructions
Remove the shell from the shrimp
Make a shallow cut in back and remove the black vein
Boil the shells and heads and filter
Fry the -uncut- garlic in olive oil
Add the filtered broth and wine
Boil your spaghetti for 5 minutes
Add your spaghetti and a ladle of water it cooked in
Continue stirring and adding water for about seven minutes
Add the raw shrimp and lemon zest
Switch off the heat, add some olive oil and keep stirring
Serve with parsley
Notes
This shrimp spaghetti recipe is not difficult. The secrets lay therefore in the details. It all starts with fine
shellfish
. Remember that you get what you pay for. The same goes for the
pasta.
Tanina uses 1 liter of water to boil the shells and heads in. She presses them vigorously, obtaining more flavor.You may remove the garlic. Tanina does. She actually cuts the cloves in half and removes the green sprout. The longer the pasta is tossed around, the creamier the result. This technique, risottare, is not that easy. Since you'll have to try to know it is ready.A matching wine is
Gazzerotta
from the Pellegrino winery. A one hundred percent grillo wine.