Is it a pizza? bread? lunch? Is it healthy? As it goes with popular food, there is a tendency to immure uncertain traditions. Some trace the name 'sfincione' back to the Romans, others to the Greek. Fact is there is truly little we know little about the past and evolution of this delicacy. Supposedly of humble origins, probably a way to give a zing to mere bread, what's sure is that today we find ourselves with a piece of culinary art.
A well risen dough is spread out in an oven tray, about one to one and a half finger thick. Topped of with a mixture of tomato sauce, onion, anchovies, oregano, breadcrumbs and cheese it is then baked. Sometimes they add thin slices of tomato, rendering it very similar to a close up of a nasty skin disease. The color of baked sfincione varies from bright red to pale unhealthy orange. A drizzle of oil and it is ready to serve. In Palermo they use caciocavallo, a local seasoned rather sharp cheese.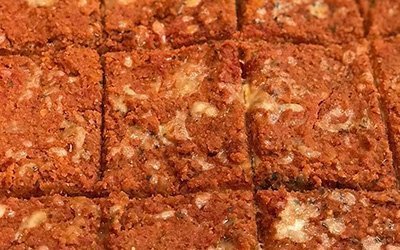 The traditional sfincione has a  rectangular form, due to the oven trays used. Apart from hot, people eat it from cold to lukewarm. Some claim it gets better overnight and becomes breakfast for champions. 'Sfincionello' is no more than a smaller format. It belongs to the happy rosticceria family.
Many bars, bakeries and rosticcerie have them on display, all around the clock. Some sfincione is homemade and everyone has a unique recipe, claiming it is the original one. Pretty typical are the itinerant charts moving through the city. Using  a loudspeaker mounted on top of the cart, they drive through the city, advertising their merchandise. They have an inbuilt grill to heat the sfincione. These colorful and entertaining character are a part of the local patrimony. They ought to be on the UNESCO shortlist. 
The abundant onion and the salty cheese may rain on this culinary parade: people say, warn, that you need a concrete mixer-like stomach to fully enjoy. Food for the poor, because you eat it and continue to do so for the rest of the day. Or at least you remember having had a meal. Do as the locals do and have a fizzy drink to go along your sfincione. It  helps you digesting and mitigates the side effects.
The white sfincione from Bagheria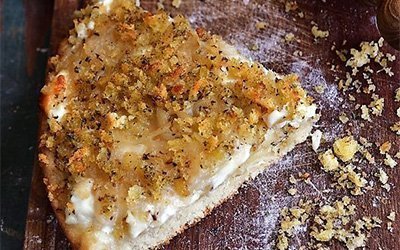 Bagheria is a town near Palermo. Culinary wise it is known for their version of sfincione. They do not no use tomato or tomato sauce, hence the name 'white'. This delicacy is topped off with a young goat cheese and sometimes with ricotta. If you happen to be in Sicily around the Christmas period, you should drop by and try.