1. Pasta with sardines, sea-sow-seen
The Mediterranean sea provides Sicily daily with sardines. An inexpensive yet tasty fish. Pasta with sardines has many variations. Probably as many as there are chefs. Pasta, sardines and wild fennel are fundamental.
Rumors go that the fennel covers sardines when they weren't all that fresh. In Palermo people use saffron. People in Catania don't. Pine nuts, raisin and toasted breadcrumb are regularly added. Shall we erect a statue to Euphemios? The story goes he had this dish prepared for his troops. Traditionally 'bucatini' go with the dish. Any kind of pasta does the trick.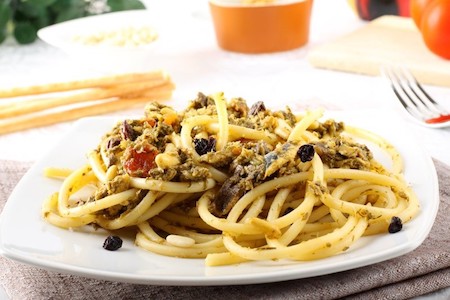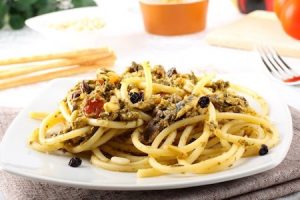 2. Pasta with swordfish and aubergine, land and sea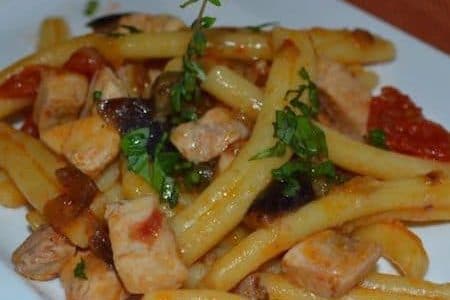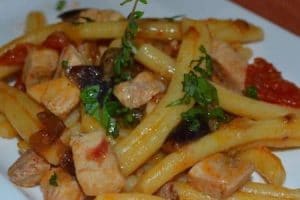 A wonderful dish, characterized by freshness. Swordfish is always around in Sicily. Aubergines most of the time. Some white wine and fresh tomato sauce complete the condiment. 
Fishmongers sell two types of swordfish. The so-called wheels and offcuts. The circular slice sure presents well. But to make pasta sauce offcuts are more than fine.
The ideal form of pasta are so-called 'casarecce'. Any short type of pasta may be used. Don't forget to add some fresh mint. It lifts the dish to a higher level.
That's what it is: pasta and clams. Few other ingredients may go in. Oil, garlic, chili pepper and parsley. This pasta must be 'white'. Meaning tomato is not allowed. In general mollusks and tomato shouldn't meet on a plate. It overwhelms the subtle taste of mollusks. One must taste the sea. Little else.
Use traditional spaghetti for this dish. Make sure to keep some of the water. You need that to obtain a creamy result. Do not forget to add some extra plates on your table. Somewhere to collect the shells.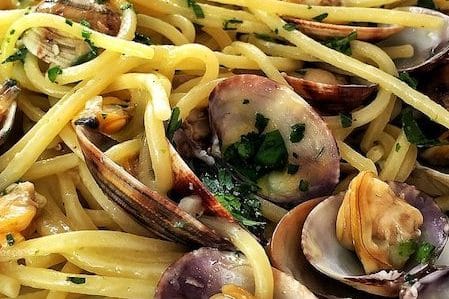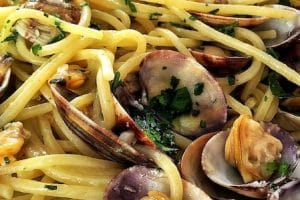 4. Black pasta with squid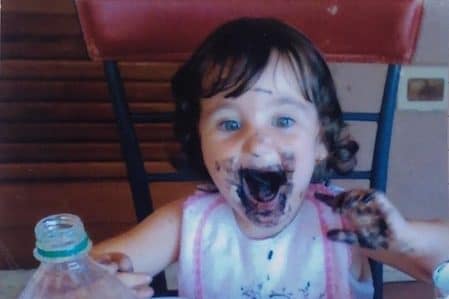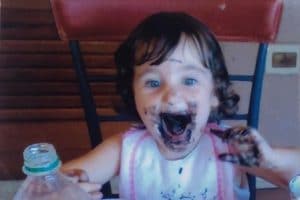 This pasta comes with black ink. Don't sit there frowning!
It is not an easy dish to prepare. Actually, the preparation is simple. Finding the right ingredients is difficult. The squid must be fresh, right from the sea and contain its two ink-sacks. Be careful while eating. It does stain your clothes. Ask for a towel if you aren't given one. There is no peace for the tablecloth. Taste-wise this dish is a bomb. Sweet and yet with a star role for the squid. There is a version made as risotto, too.
5. Pasta with sea urchins
'Hedgehogs of the sea' as they call them in Italy are more than a nuisance to bathers. As it often goes, the armor protects the delicious inside. The orange eggs are delicious.
You need about fifteen urchins for one plate of pasta. A part is fried together with garlic, a part is added raw. What do urchins taste like? Sea in all it's glory. Whereas adding parsley is pretty common, tomato is rather rare. It is a costly dish, but well worth paying for.
A quintessential dish when in Sicily.