These snacks are usually sold in bars or in -hold tight- rosticceria shops. You either eat them on the spot or have them wrapped up for take away. Usually fresh they might need a short heating, for which you can ask without being looked upon. Rosticceria is an absolute must for birthday parties and to finish a night out with.
Fried rice balls with a tasty filling, omnipresent and contested between Sicily's two major cities, Palermo and Catania. To distinguish they changed gender of the ball, making it male in Catania (arancino) and female in Palermo (arancina). Taste wise nothing really changes. Lately new filling are coming up, some interesting, some truly nasty. Better stick with 'burro' (ham, mozzarella and béchamel), 'carne' (Bolognese sauce) or 'spinaci (spinich). You can eat them hot or lukewarm, never cold. Rosticceria has a Queen. Or a king?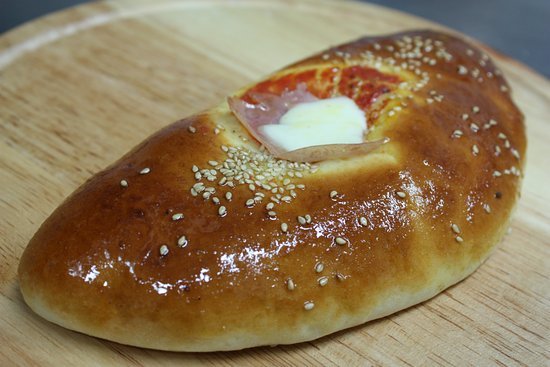 If you are a regular in pizza joints, you might have heard the name: the folded pizza. The 'calzone' in Palermo does not use pizza dough but a softer one, similar to brioche dough. Filled with mozzarella and ham, they come in two versions: baked and fried. A healthy twist may consist in the adding of a slice of tomato. They are on display from breakfast all the way through after dinner. Be brave, be a champion, and try the fried version for breakfast.
Named after and dedicated to Mascagni's opera, this fried doughnut like pastry is an institution in Palermo. Popular ever since the opening night. Ricotta cheese, sugar and chocolate covered in a crunchy fried dough is not only a breakfast treat. Just as with the 'calzone' there is an oven baked version. Half a battle lost or won? Have it as you please, just be sure there's icing sugar on top.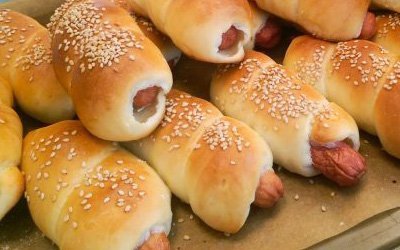 Let us halt at the name before initiating the praise. Two foreign words in one bun are at least peculiar in a Southern Italian delicacy. In Sicily words have to end with a vocal, and where there is none, one is added. Rollò is distortion of roll (as in Swiss roll) and wurstel is the German for sausage. Little more than a sausage baked in brioche dough with no further seasoning (not counting the topping with sesame seeds) it is an old time favorite. It never surprises and great deal of its success derives precisely from that fact.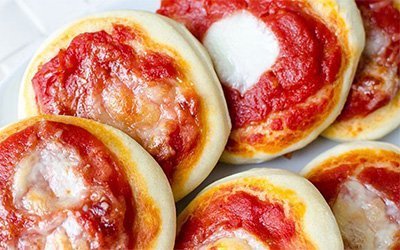 Pizzette are not the smaller version of a pizza. Truth be told, the topping is pretty similar: tomato sauce, mozzarella and sometimes anchovies. The dough is light and well risen, fluffy. They come in two sizes, the bigger one as big as a CD, the smaller one slightly bigger than when uniting the tips of your index and thumb. Pizzettine translated are little small pizzas. Number one on the rosticceria list of children. By far.
In times of food hysteria, where pondering is as important as eating, rosticceria is in nutritional straits. What about all the frying? And the cholesterol? There is nothing wrong with asking yourself questions, but avoid doing them when you're about to order. You'll look and sound like a fool and spoil your own happiness.
Haven't I seen you before?