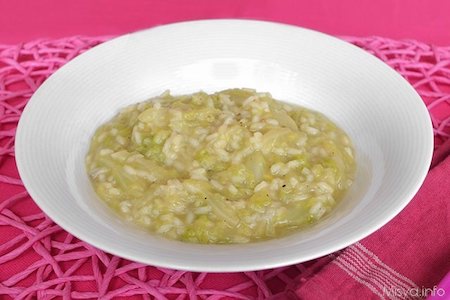 Risotto di verza
Risotto di verza -savoy cabbage. is a winter dish. Full of strong flavour and extolled for its health benefits. We follow a classic risotto recipe. The recipe is basic, so you can build on it. 
Prep Time

10 Minutes

Cook Time

45 Minutes

Total Time

55 Minutes

Serves

4 People

Calories

150 kcal
Ingredients
320 grams of carnaroli rice

1 savoy cabbage - verza

1 onion

2 stalks of celery

2 carrots

1 clove of garlic

1 glass of white wine

40 grams of butter

100 grams of parmesan

Salt and pepper
Instructions
Remove the harder parts of your verza
Set these aside and cut the rest finely
Boil the onion, celery, carrots and harder parts of the cabbage
Steam one third of the cabbage
Fry a clove of garlic in olive oi
Remove the garlic and add the unwashed rice
Fry while stirring for about 4 minutes
Add the raw cabbage and a ladle of your broth
Add broth bit by bit
After 10 minutes add the pureed steamed versa
When the rice is al dente, turn the heat off
Add the butter and cheese, stirring vigorously
Season with black pepper
Notes
Risotto di verza,
savoy
rice, is an easy recipe. We use carnaroli rice but arborio or roma rice work fine. It is important to roast the rice before anything else. You can either add salt to the vegetable stock or at the end. Consider the fact that cheese is already rather salt, too.Keep stirring all the way through. That way your rice releases more starch. And more starch translates in a creamier risotto di verza.Often people add fried pancetta or bacon. It tends to cover the cabbage. As does excessive seasoning.We used
Don Michele
wine by tenute Moganazzi. An elegant Sicilian wine that pairs well with this dish.