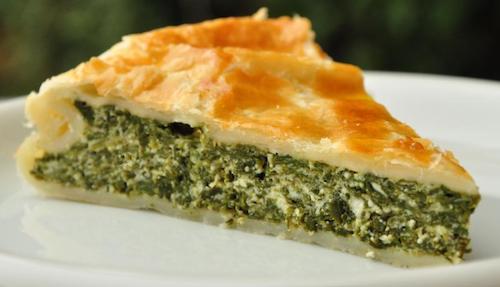 Ricotta and spinach pie
This savory pie is a classic in Italy. It is actually probably the most popular among pies. Probably due to the simplicity in preparing as well as the pleasantness in taste. A slice of pie is ideal as a starter, wonderful for an aperitif. Serving temperature is yet another interesting feature. Serve is piping hot, or cold. Though different in texture, both are delicious.
Prep Time

15 Minutes

Cook Time

40 Minutes

Total Time

55 Minutes

Serves

4 People

Calories

250 kcal
Ingredients
400 grams of fresh spinach

300 grams of ricotta cheese

80 grams of grated cheese, pecorino or parmesan

1 sheet of puff pastry

1 egg, 1 egg yolk

nutmeg, salt
Instructions
Carefully clean your spinach
Transfer the spinach in a casserole, with little oil
Leave it on a low fire for about 10 minutes
Let the spinach cool down and gently squeeze
Mix with ricotta, cheese, nutmeg and an egg
Spread the mixture over a sheet of puff pastry
Fold the edges, leaving the middle uncovered
Glaze the puff pastry
Bake the pie for 25 minutes at 190 degrees
Notes
This pie evokes happiness, cosiness. People often bring this pie along to
parties
. And even dinners. When ingredients are few, the importance weighs. Using frozen
spinach
for example saves time. But it is undeniable different from fresh spinach. The same goes for the quality of ricotta. Which by the way must be drained well.Some prepare the spinach with garlic. It does taste nice but is not essential to the pie. And neither essential but tasty is pancetta. Or speck or other pork derivates. It does tend to cover and stand in the limelight. The best pairing wine is sparkling wine. Sicily now produces excellent sparkling wines. A whole new spectrum to discover.