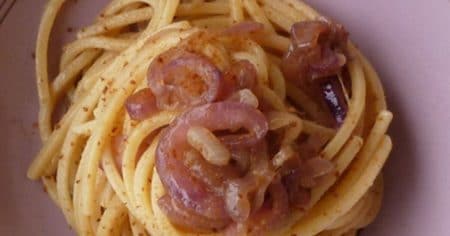 Revisited tuna pasta
Why a revisited version of a solid recipe? Because the daily grind pushes this dish in a dangerous direction. This is but a reanimation of a recipe that risks to fossilize. Tuna pasta should never be a sad solution for a quick lunch. 
We offer no transcendental solutions. The basis remains intact. We offer a lifebuoy to a drowning recipe. A parachute to a crashing dish. 
Prep Time

10 Minutes

Cook Time

10 Minutes

Total Time

20 Minutes

Serves

4 People

Calories

250 kcal
Ingredients
400 grams of spaghetti

100 grams of canned tuna

1 red onion

2 cloves of garlic

20 grams of grated bottarga

1 spoon of fish sauce

1 spoon of salted capers

Fresh mint

Olive oil
Instructions
Sauté the garlic in olive oil
Remove the garlic when it starts to color
Sauté the finely sliced onion in the same oil
Add minced capers and the fish sauce
Mix the tuna in and stir well
Add the fresh under boiled pasta and a cup of cooking water
Stir till you obtain a creamy consistence
Add chopped mint and sprinkle the dish with bottarga
Notes
The revisited recipe uses
fish sauce
. Many will turn up their nose. And indeed the smell may be a trifle challenging. The umami-effect on the other hand is massive. Specially used with canned tuna. It lifts a run-of-the-mill product to a priory unknown level.
Canned tuna
comes in many types. And the rule of thumb is that what you get what you pay for. Glass jars tend to be better. They are transparent after all.Most supermarkets now sell
bottarga
. For this dish you can use the powdered form.The use of white wine is troublesome. The introduced acidity is difficult to counter. So when working with wine, add an extra onion. To restore the equilibrium with natural sweetness.