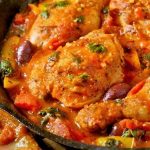 Pollo alla cacciatore according to Claudio
Claudio's pollo alla cacciatore is quite a performance. Many Italian regions have their version. Claudio makes it personal, Sicilian and delicious. He got the recipe from an uncle. A man nicknamed il cuoco,  the cook. 
Claudio inherited the nickname and wears is an aristocratical title. Rightly so.
Prep Time

20 Minutes

Cook Time

40 Minutes

Total Time

60 Minutes

Serves

4 People

Calories

300 kcal
Ingredients
1 whole chicken

300 grams of cherry tomatoes

2 onions

1 stalk of celery

2 carrots

40 grams of salted capers

70 grams of black olives

Wild fennel

1 glass of white wine

salt, pepper and EVO
Instructions
Divide the chicken and wash it thoroughly
Sear the chicken in a pan and set it aside
Fry diced onion, carrot an celery in olive oil
Sear the chicken in a hot pan, then set aside
Fry the garlic, the diced onion and chili peppers in the same pan
Add the chicken and stirr
Then add the wine and let it reduce
Add the tomatoes, fennel, capers and olives
You may want to add some water
Cover and let it simmer for about thirty minutes
Let the chicken rest for 10 minutes before serving
Notes
Pollo alla cacciatora,
hunter's chicken
is an easy dish. There are though many variations and techniques that determine the outcome. So does Claudio use a
whole
chicken. Using only thighs or breast, the taste is monotone, he says. The use of
wild fennel
gives this pollo alla cacciatora a peculiar taste. One may substitute
wild fennel
with the green 
leaves 
of normal fennel.Claudio lets the
capers
soak in tepid water. And he
debones
the olives. Nothing worse than biting an olive pit.The
wine
served is the same as added to the dish. Claudio chose
Vurria Grillo
by the
Di Giovanna
winery. A fruity and fresh wine.