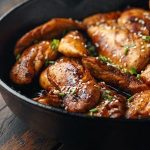 Pollo al caffè
Chicken with coffee, pollo al caffè, is not really an Italian recipe. Actually, it is not even a real recipe. If anything it is a way to marinate meat or fish, using coffee. 
Here is the way our friend Elena prepares the dish. She uses drumsticks and serves them as starter or aperitifs.
Prep Time

25 Minutes

Cook Time

35 Minutes

Total Time

60 Minutes

Serves

4 People

Calories

300 kcal
Ingredients
12 drumsticks

1 big onion

2 cloves of garlic

1 chili pepper

100 cl of espresso coffee

1 carrot

2 stalks of celery

salt, olive oil
Instructions
Let the drumsticks marinate overnight in the coffee
Fry the drumsticks in a pan, searing all sides
Add the diced onion, celery and garlic and chili pepper
After five minutes add half of the marinate and cover the pan
Let it simmer for about 20 minutes
Remove the chicken and reduce the sauce
Notes
Pollo al caffè is not a difficult dish to prepare. One should though start the day before serving it. The
chicken
must
marinate
for at least twelve hours.When using other pork this can be reduced to six hours. And fish -white fish such as
monkfish
- to two hours.Instead of using just caffè espresso, you can add cinnamon and cardamon. It will result in a
Mexican
style dish.Now how do you serve this dish? Well it can come in many identities. As a starter or main dish. Or as Elena does, as part of the aperitif food. That is why she covers the bone with appropriate kitchen towel.What do you drink with it? Go for a
Inzolia spumante
by Coppola1971. The fruitiness of the
inzolia
grape balances the slight bitterness of the dish.