Many people undergo the seasons. Sicilians adapt to them. In summer the lunch starts later. And lunch itself is lighter. Eating in the shade of an olive tree or on an aired terrace is charming. Especially in good company. Usually Sicilians eat pasta for summer lunches. Heavy eating would compromise the successive nap. Wine is the great absent on the table. Again, dictated by the sultry days. Pasta, a bit of fruit and off to the couch. Unless grandpa starts cutting a juicy peach.
For almost two hundred years the Spanish ruled Sicily. One may admire the wonderful baroque churches built in that era. And maybe the idea of adding a peach to wine originates from that period. The Spanish sangria is now world known. Today the list of ingredients is endless and the result very unsurprising. A classic example of overdoing. Baroque if you please.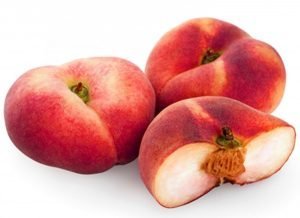 Sicily grows the most wonderful variety of peaches. From the Saturn peach or 'tabacchiera ' (tobacco tin) to the compact Bivona peach. From the excellent Leonforte peach with its elaborate cultivation to Alcantra variety. Peaches are a symbol for summer in Sicily. Your local peaches will do fine too.

The Spanish sangria is subject to heated discussions. Many claim to make the original version and denounce all variations. On the other hand, being an emblematic drink, it inundates the rest of the world. And consequently further variations appeared. The risk of becoming a joke is imminent. And guess who's laughing.
Peach and wine are the purest form of sangria possible. In spite of the similarities, they differ seriously. Cutting wedges of peach in a glass of wine is all there is to it. Nothing else should be added. Contrary to sangria, this is an immediate recipe. And that makes it special. Straightforward and a little naughty. It all happens at the end of a nice lunch, when fruit is served. Not planned, not announced. Slightly mischievous. Not caring what wine to use, no pondering on quantities. The siesta will be a little longer, but it is summer after all.