Let's go patata. The name cazzilli is very straightforward. Little pricks, because that is what they look like. The rest of the world calls them croquette. And prudish Sicilians may mangle that into crocchè. 
Cazzilli often come with panelle, fried chickpea dough. Order them in a sandwich. With a squeeze of lemon and a some salt. A quick lunch, a late snack or just because. 
The best cazzilli come from itinerant carts roving the city.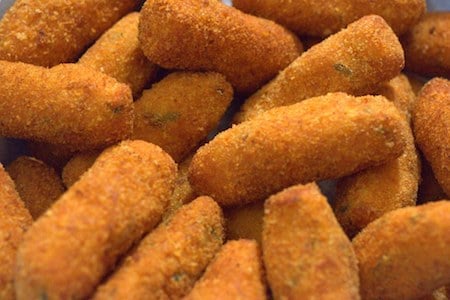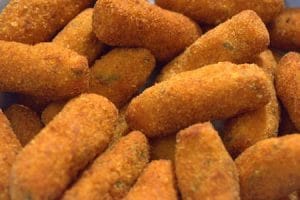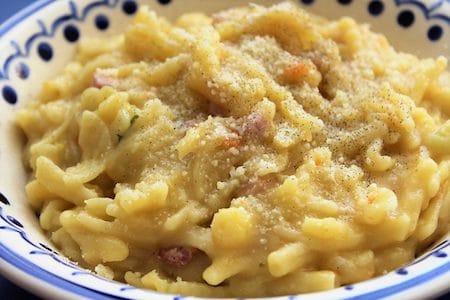 Pasta with potatoes is a surprising dish.
It should not be cooked for more than four people. And served piping hot, eaten in silence; it is a dish that decompresses, it is a prelude for what lays ahead. It compensates for lost certainties. Having a plate of pasta with potatoes means turning a page in a day, let go what has been, get ready for what's to come.
This dish symbolizes the archetypical mother, robust, caring, consoling, whispering 'I know, I know, but now eat and it will all pass'. Comfort food by excellence.
More than food baked potatoes are a treat. The boring truth? A chemical reaction between amino acids and reducing sugars. The fun version? The potatoes are soft in the the centre, crispy on the outside.
The Sicilian variant is easy. Potatoes are layered on tomato sauce. Together with onion and tuma cheese. You might use mozzarella or other cheeses. A champion on your table. Serve piping hot.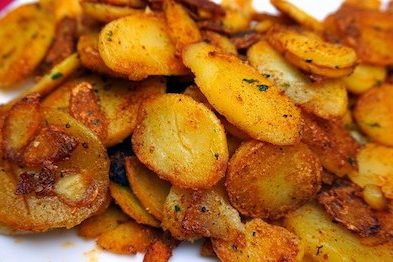 Insalata vastasa translates as uncouth salad. In Palermo you can buy all ingredients in one single shop: a greengrocer. They sell boiled potatoes and beans. Adding ingredients is not considered cooking. Hence it is 'vastasa', not putting great effort in cooking. Insalata vastasa is a summer salad in Sicily. But don't let that be deterrent for having it in other seasons.Regarding the vinegar, be careful. Better use a little less. Or a sweeter vinegar. Served with bread, this insalata can easily become lunch or dinner.
From the French for cake, gateau is a savory dish. Two layers of mashed potato. What goes in between is often determined by the content of fridge. Classic fillings are mozzarella and ham or ragù (aka bolognese).
It often comes as a quick lunch since. Not only is doesn't require chewing, it can also be made in advance.