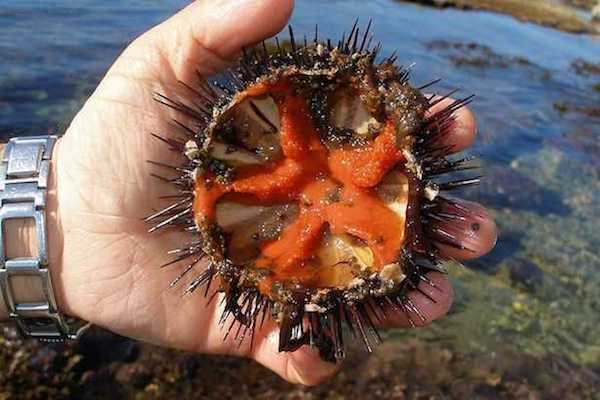 Sea urchin pasta
Sea urchins are much more than a nuisance when going to the sea. Whereas stepping on them will make you mad, serving them with pasta will make you happy.
Prep Time

15 Minutes

Cook Time

20 Minutes

Total Time

35 Minutes

Serves

4 People

Calories

275 kcal
Ingredients
16 sea urchins

400 grams of spaghetti

2 cloves of garlic

Abundant olive oil (4 spoons)

Chopped parsley

Salt and pepper, q.b.
Instructions
Use kitchen scissors to open your sea urchins. Wearing gloves is highly recommended.
Use a spoon to remove the 'eggs' and set apart.
Boil the spaghetti in plenty of salted water.
Fry the garlic in olive oil till golden brown. Then switch of the heat.
Transfert the fresh boiled pasta in the garlic oil.
Add two thirds of the sea urchins, parsley and stir.
Top off with the remaining sea urchins.
Notes
Not all sea urchins are
edible
. The ones you use for this recipe are
paracentrotus lividus
. They are available only few months in a year. Which makes them even more sought after.The
popular
believe only female ones are fit for eating, is a
myth
. As the matter of fact, they are
hermaphroditic
animals. And what we eat are not eggs but
gonads
.The adding of
parsley
is
fundamental
. It not only balances the garlic, it adds
color
to the dish.In Sicily crafty boys and girls in beach towns will sell you
spooned
urchins. Check this for possible
spines
. So maybe better open the
ricci
yourself
anyway. Or order them at a restaurant overlooking the sea. This is the closest most people ever come to paradise.This is a delicate dish goes well with chilled
Vurria Grillo
by Di Giovanna.