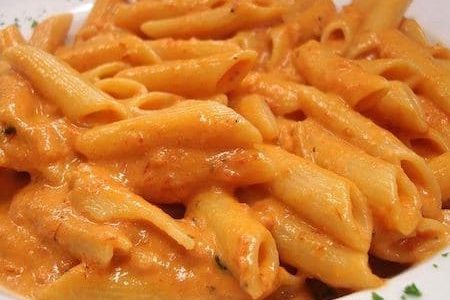 Pasta with bell pepper cream
Pasta with bell pepper cream is part of the pesto family. The creaminess comes with the adding of cooking water. Or with cream or milk. A very stylish fast dish. Excellent for beginners and gourmets.
Prep Time

15 Minutes

Cook Time

15 Minutes

Total Time

25 Minutes

Serves

4 People

Calories

200 kcal
Ingredients
320 grams of short pasta, paccheri when available

1 red bell pepper

1 yellow bell pepper

60 cl of tomato sauce

1 clove of galic

60 grams of grated seasoned cheese

20 cl of olive oil

Basil

salt, chili pepper
Instructions
Pot the water for your pasta to boil
Bake the peppers for 5 minutes at 220 degrees
Transfer the pepper in a bowl and cover for 10 minutes
Peel the peppers
Add tomato sauce, cheese, garlic and basil to the sauce
Blend all the ingredients to a cream
Transfer the fresh boiled pasta in a bowl
Add the cream and half a ladle of cooking water
Stir energetically
Serve hot
Notes
Pasta with bell cream is an easy dish. Most of the outcome depends on the quality of the
pepper
.Regarding the cheese, one can add ricotta. Two to three spoons. This enhances the creaminess.The
chili pepper
is better served at the table. Use short pasta. The cream should coat your pasta. We advice a nice Sicilian wine for this dish.
Finimondo
by Cantine Carlo Pelligrino. A blend that matches the creaminess and pepper in general.