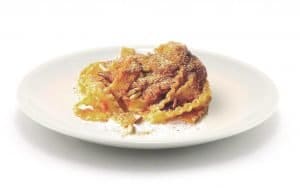 Pasta c'anciova
Pasta with anchovy is monumental and yet invisible. Everybody knows it, nobody eats it. Praised and despised, adored and belittled. Welcome to Palermo. An easy dish with extremely popular roots, able to convince the pickiest eaters.
Prep Time

10 Minutes

Cook Time

25 Minutes

Total Time

35 Minutes

Serves

4 People

Calories

325 kcal
Ingredients
400 grams of pasta (bucatini/margherite)

200 grams of tomato paste (concentrato)

120 grams of bread crumbs

10 anchovy fillets/50 g of anchovy paste)

1 onion

2 cloves of garlic

30 grams of black raisins

olive oil
Instructions
Fry the finely chopped onion in oil till tender
Add the anchovy fillets and garlic
Add the tomato paste, raisins and the cup of water they soaked in
Let it simmer for about twenty minutes, on a low fire.
Roast the bread crumbs in a pan with oil, till nutty brown
Toast the bread crumb in a pan with olive oil
Drain the al dente boiled pasta, saving a cup of the water
Add half of the sauce to the pasta, mixing thoroughly
Ladle the rest of the sauce over the single portions
Top off with the toasted bread crumbs
Notes
Pasta with anchovy,
c'anciova
(pasta kan-chioh-vah) is probably Palermo's most emblematic dish. Without knowing nor caring for that title. It's
uncouth
, it's
simple
. Yet it is savoury and smooth. It is a dish that unites
contrasts
. Very much as the city of Palermo does. As Sicily does.There are plenty of variations, all acceptable as well as deplorable. Some leave the garlic out, some add
pine nuts
. Some use tomato sauce. And the ubiquitous chili pepper finds its way to the dish. What to drink with this pasta and anchovy? Even sulphuric acid would pair well. We'd advice something less extreme. As in other pasta preparations, use the water pasta boils in. It helps to cream up the final result.