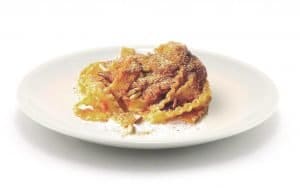 Pasta with anchovy
A rather simple recipe that brings one to ask: how is it possible nobody else came up with recipe elsewhere? This is what Palermo tastes like. Spectacular indeed!
Prep Time

45 Minutes

Cook Time

20 Minutes

Total Time

45 Minutes

Serves

4 People

Calories

350 kcal
Ingredients
400 grams pasta (reginette/mafalde) or bucatine

1 onion

2 cloves of garlic

100 grams of tomato paste or 250 grams of tomato sauce

5 anchovy fillets

2 cups of hot water

100 grams of toasted bread crumbs

20 grams of raisins

20 grams of pine nuts
Instructions
Soak the sliced onion in salted water for 30 minutes
Drain the onion and fry in olive oil
Add the garlic and anchovy
Let the anchovies melt away, then add the tomato paste and water
Cover and let it simmer for about 20 minutes
Toast breadcrumb, pine nuts and raisins in olive oil
Add the pasta -al dente- to the sauce
Top off the single servings with the breadcrumb mix
Notes
Since ancient times anchovies have been used to brighten up dishes. The Romans prepared their '
garum
' by letting the fish decompose, a traditions that lead to the Worcestershire sauce. Now we have a name for it: umami. Anchovies are a natural taste enhancer. Easy, right. Some add a part of the
breadcrumb
mixture in the sauce. And others add grated caciocavallo. Ad ogniuno...