Pasta alla Trapanese is named after the city and province in western Sicily, while elsewhere it is know as pasta with tomato. Pinning it down to one single region or city is challenging since the ingredients are found all over Italy. Considered a classic dish, we have to remind that the first use of tomatoes dates back to somewhere between the 18-19th century. Born out of abundance, pasta alla Trapanese is adorned with simplicity. Reminding  girl in a summer dress, a tough boy in swimsuit.
Trapanese, not ordinary at all
This pasta stands out for two reasons: first of all because the sauce is uncooked. All of the ingredients have to be fresh and cannot realistically be substituted. The second reason is the temperature: the seasoning should be made in advance and stored in a fridge, so when the freshly boiled pasta is added, the whole cools down to a pleasant lukewarmness. Excellent for a torrid summer day.
Ingredients per person
Preparation
Ingredients per person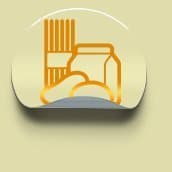 2 tomatoes
4 leaves of basil
1 clove of garlic
1 spoon of oil.
Preparation
In Sicily almonds are harvest at the end of the summer and what is left of the previous year has to be consumed. Almonds, even stored correctly, last no longer than one year. Added to 'Trapanese' as simple dish becomes a feast. Some add roughly cut up almonds to the seasoning, others add toasted almonds just before serving. It surely adds texture to the dish.
The problem with cherry tomatoes is that you can't peel them, making them unfit for this recipe. The same goes for dried tomatoes. Cherry tomatoes as well as dried tomatoes are very tasty indeed. You can use them in other recipe where they express themselves better. Use fresh tomatoes, the ones that grow near where you live. Remember that this a seasonal recipe that loses much of its charm when forced.

There are no limits to the ingredients to add. Chili pepper to spice it up, seasoned cheese, bell pepper, anchovies or capers to enrich the flavor. Or leaving the garlic out, adding mint or oregano. The danger is that by moving away from the distinctive simplicity of the dish, the equilibrium might be deranged. Stick to beauty, keep it simple.
Is there a difference with the ubiquitous bruschetta? Indeed there is. Here a clove of garlic is scraped on fresh toasted bread and the tomatoes may have their skin still on. Does it means that 'Trapanese' would not work with bread? Is there a better way than trying it out for yourself? Buon appetito