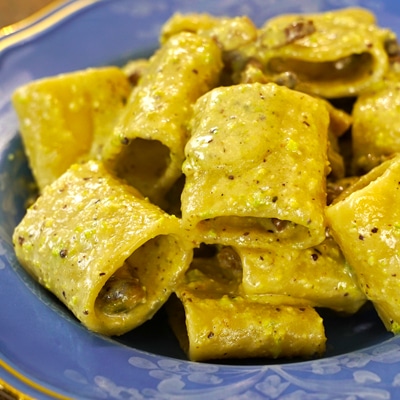 Pasta pistacchio panna e pancetta
This dish features panna, cream. Yet it was conceived in Italy. Many puritans consider it overkill. Probably not having eating it. This is a festive dish. And it works wonderfully well as an antidepressant. I heard it heals broken hearts.
Prep Time

5 Minutes

Cook Time

15 Minutes

Total Time

20 Minutes

Serves

4 People

Calories

600 kcal
Ingredients
320 of pasta

100 grams of pancetta (bacon)

100 grams of pistachio

100 ml of heavy cream (panna da cucina)

salt, pepper and oil
Instructions
Bake strips of pancetta in a pan for about 5 minutes
Add three quarters of the roughly ground pistachio
Stir well and incorporate the cream
Add the pasta and one cup of cooking water
Serve the pasta and top off with the remaining pistachio
Notes
Pasta
with pistachio, panna and pancetta is easy to prepare. The presence of
cream
somehow compromises the dish. One may half the amount of cream. Adding some more water the pasta boiled in.You may add a clove of
garlic
when frying the bacon. It gives the dish more structure.Do not forget this is
comfort
food. Prepare it for special occasions. Pasta pistachio panna and pancetta is an
adolescent
favorite. Help the kids out. Make them happy. And forget about your dreadful diet.There is
no
specific pasta advice for this dish. It works with spaghetti as well as penne.