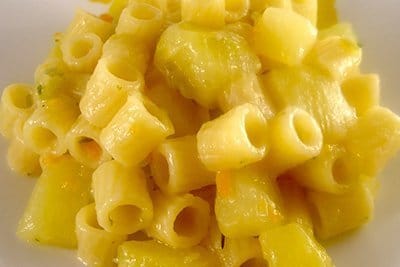 Pasta e patate
Respecting standards of taste, authenticity and decorum, it is the easiest and probably cheapest recipe known to me. The ubiquity of the ingredients – potatoes and pasta – and the simplicity of the preparation should therefor be concealed when cooking for guests. Actually, this is a dish that should not be cooked for more than four people: it must be eaten piping hot, in silence; it is a dish that decompresses, it is a prelude for what lays ahead, it compensates for lost certainties. Having a plate of pasta with potatoes means turning a page in a day, let go what has been, get ready for what's to come. This dish symbolizes the archetypical mother, robust, caring, consoling, whispering 'I know, I know, but now eat and it will all pass'. Comfort food by excellence.
Prep Time

10 Minutes

Cook Time

25 Minutes

Total Time

35 Minutes

Serves

4 People

Calories

250 kcal
Ingredients
4 potatoes

350 grams of pasta - short, hollow type

150 ml of tomato sauce or 200 grams of peeled tomatoes

1 big onion

salt, pepper, olive oil
Instructions
Chop up the onion and sauté in olive oil
Add the diced potatoes
After 5 minutes add two cup of boiling water
Leave the potato to boil
Half way through add the tomato sauce (after 10 minutes of boiling)
Add the fresh boiled pasta and two cups of cooking water
Notes
This soup is serious. Actually, more than a soup it is a
minestra. 
The liquid comes from the water pasta boils in. And not from the
potato
condiment. A highly requested extra ingredient is cheese. And this particular dish goes wonderfully well with provola. Thought other cheese will do fine as well.In Sicily there is a tradition of adding some saffron to the potatoes. It colors the dish bright yellow. Better not to add tomato when using saffron.