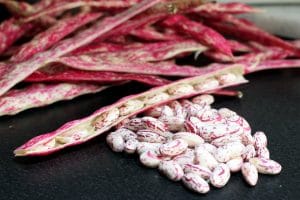 Pasta e fagiola
Pasta and beans, pasta fagiola. Borlotti-beans in Palermo are sold under the name 'fagiola pasta', pasta beans. No wonder they end up in a delicious pasta recipe. Easy to prepare, tasty and filling. It is a dish with strong rural connections, and therefore probably so deeply rooted in the Italian kitchen. The beautiful colored beans turn brownish while cooking. A sorrow that is compensated by the richness of the dish. It can be eaten as a soup as well as rather dry. Some say it tastes better the following day. Comfort food by excellence.
Prep Time

20 Minutes

Cook Time

60 Minutes

Total Time

60 Minutes

Serves

4 People

Calories

600 kcal
Ingredients
1 kilo of borlotti beans

320 grams of big pasta (mafalde, reginette, spaghettoni)

500 grams of fresh tomatoes

1 big onion

salt, olive oil
Instructions
Pod your beans while listening to your favorite music
Peel and dice the tomatoes, chop the onion
Fry the onion in olive oil, then add the beans
Stir for 5 to 10 minutes, then add the tomato
Cover with water and let it boil for about 45 minutes
Add HOT water when things get dry. Keep on listening to your favorite music
Under-boil your pasta: if the package says 10 minutes, boil for 7 minutes
Add the pasta to the beans
Cover and wait 10 to 15 minutes before serving
Notes
This
recipe
derives from the rural tradition, where meat was served on special occasions only. Nowadays people sometimes add pork meat. One may substitute the fresh beans with dried ones. Let them soak overnight. 250 to 300 grams are sufficient to prepare pasta e fagioli. Some add rosemary, others sage. Try without anything first. Legumes may cause
flatulence
.