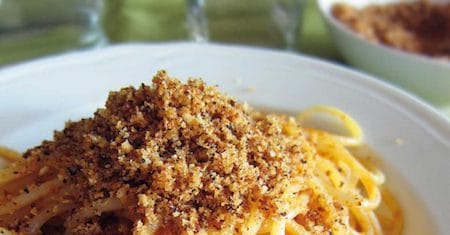 Pasta ca' muddica, breadcrumb pasta
Pasta ca' muddica atturrata translates as pasta with toasted breadcrumbs. It doesn't get much easier than this. Few ingredients. Few and inexpensive ingredients. Most Italian and Sicilian kitchens have the ingredients stored, even in dire times. Pay attention to the details, since there is nowhere to hide the final result.
Prep Time

10 Minutes

Cook Time

10 Minutes

Total Time

20 Minutes

Serves

4 People

Calories

200 kcal
Ingredients
400 grams of spaghetti

150 grams of breadcrumbs

4 anchovy fillets

2 cloves of garlic

olive oil
Instructions
Bake the breadcrumb in abundant olive oil till golden brown
Fry two cloves of unpeeled roughly crushed garlic in oil
Add the anchovies and stir till they dissolve
Remove the garlic and add the boiled pasta
Add the pasta and stir
Add some water the pasta boiled in when too dry
Serve with the breadcrumb on top (two spoons per plate)
Notes
Pasta ca' muddica atturrata is very simple yet complex dish. It is a variation on the ubiquitous
garlic and oil
pasta. To sign it off as even more Sicilian, people tend to add raisins and pine nuts. This somehow disturbs the poetic balance of
culinary
simplicity. The same goes for chili pepper and parsley. Now, it is of course up to you. Yet we'd advice to start with the basic version.Since the ingredients are few, they should be outstanding. Make your own bread crumb. Avoid the fine mix from the supermarket. Panko is an interesting substitute. Muddica atturrato comes with other recipes and pasta dishes.
Broccoli arriminati
is probably the best known. Prepare the muddica at the moment. It loses fragrance and crunch over time.Pasta ca' muddica atturrato is best paired with a fruity white wine. Our advice goes to a Grillo based Western Sicilian wine.