Pasta carbonara (bacon and eggs)
Italy's sweetheart. And an excellent export product too. On the menu of the Italian restaurants abroad and recently in the home kitchens around the world. 
Ingredients for four
Preparation
Ingredients for four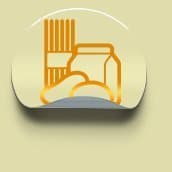 400 gram of pasta –spaghetti preferable
150 grams of bacon
100 grams of grated cheese (pecorino preferable)
1 whole egg, four yolks
Pepper and salt
Preparation
A popular variation is adding milk or cream to the egg and cheese mix. Since solidification is slower you will have to do the mixing while on the heat. Instead of a bowl, use a pot or the pan the bacon fried in.
Bacon, cheek lard or pancetta, try what best suits your taste. Same goes for parmesan cheese, pecorino local seasoned cheese. Just do not overdo it and keep the ingredients to minimum.
You will be preparing pasta carbonara for your guests, who probably are not Italian. Do you own thing and dedicate some time to improve your proper version. An important factor to take into account is the salt factor: bacon or pancetta (even guanciale) are salted, as is your cheese. Go easy on adding salt.