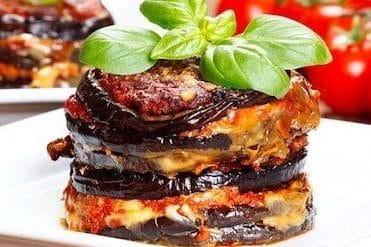 Parmigiana
Eggplant parmigiana is a classic in the Sicilian kitchen. It recalls summer and carefreeness. The simplicity of this dish is immense. Few ingredients, perfectly matched.
Prep Time

30 Minutes

Cook Time

30 Minutes

Total Time

60 Minutes

Serves

4 People

Calories

400 kcal
Ingredients
4 aubergines

800 ml of tomato sauce (simple)

1 onion

200 grams of grated pecorino cheese

plenty of basil leaves

frying oil
Instructions
Cut the washed aubergines in slices
Sprinkle with abundant salt and set apart for 30 minutes to an hour
Fry a diced onion and add the tomato sauce
Dry the aubergine clean with kitchen paper
Fry the aubergines for 5 minutes at 175 degrees
Cover the bottom of an oven tray with fried aubergine
Cover the aubergine with tomato sauce, basil and a fistful of cheese
Repeat and make sure the last layer consists of sauce and cheese
Bake at 180 degrees for 20 minutes
Notes
Parmigiana is a
popular
dish. This means that many people have their own version. And all will claim, state and solemnly swear their version is the original. They criticize all others. Most have a secret. And keep that close.The cheese used for parmigiana is pecorino. Although many started using parmesan cheese. Towards Naples people use mozzarella cheese.
Caciocavallo
is another valid option.Some add ingredients. Ham, eggs and who-knows-what-else. It is up to you. The risk is to overload the dish. Parmigiana is a healthy simple dish. The American variant differs from the Sicilian one. There the idea of parmigiana indicates the layering. Instead of aubergine they use chicken.Serve parmigiana as a main dish with bread. Few dishes embrace bread as this dish does. Leave the bread and have yourself a starter.It is of absolute importance to let the parmigiana cool down. Leave it overnight sitting in the fridge. Serve cool.