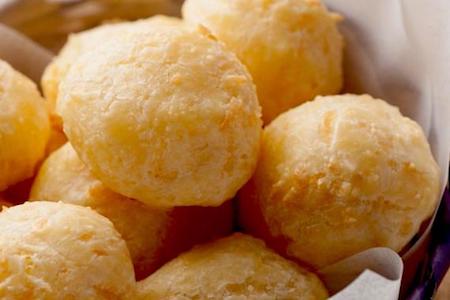 Pao de queijo
Pao de queijo translates as cheese bread. It is a very popular snack in South America and Brazil in particular. Very often served as street food these puffs make an excellent nibble for your aperitif. Keep in mind that one leads to another.
Prep Time

20 Minutes

Cook Time

40 Minutes

Total Time

60 Minutes

Serves

4 People

Calories

350 kcal
Ingredients
500 grams of tapioca flour

120 cl of milk

200 grams of grated cheese (see instructions)

120 cl of water

80 cl of vegetable oil

2 eggs
Instructions
Pour the milk, water and oil in a pot
Gently bring the liquid to a boil
Switch of the heat and gradually whisk the flour in
Make sure not to leave any lumps since the jeopardize the pao
Let the mixture cool down for about ten minutes
Add the cheese and one egg at the time
Keep whisking till obtaining a smooth pale dough
Use a sac à poche to make balls, about 2cm in diameter
Bake for about 20 minutes at 180 degrees
Notes
Pao de
Queijo
is an easy dish. The preparation recalls beignet making. Tapioca flour is rich in starch and cannot be substituted by wheat flour. A possible way round using tapioca is mixing potato starch and wheat flour at a 1/3 ratio.What cheese to use? Well, generally speaking you need a hard cheese. Grana Padana or Parmesan do fine. Although mixing in some pecorino cheese makes things really interesting.Don't let the name 'pao' or bread fool you. It is a fully independent snack that needs not further improvement. In South America they come with a refreshing drink. And that is what we would advice you. Serve them as a snack, or better still, an
aperitif
.