What city is the cleanest or the safest? In which city is it easy to find a job or a house? Which city has the best public transport. And what about air quality? Answers to these questions can be found in the latest Report on the Quality of life in European Cities, 2020. This report summarises the results of the 5th survey of European cities. It covers 83 cities and was carried out in 2019
In the survey 700 people express their consensus. For example, it's safe walking in the city at night. People answer with 'I agree' or 'I don't'. Or with 'satisfied' or 'not satisfied'. Then the local percentage is then compared to the highest and lowest city. Fun, right?
Click to browse the survey. What one immediately notes is the North-South contrast. 
There are eight global themes. 
Overall satisfaction

Services and amenities

Environmental quality

Economic well-being

Public transport

The inclusive city

Local public administration

Safety and crime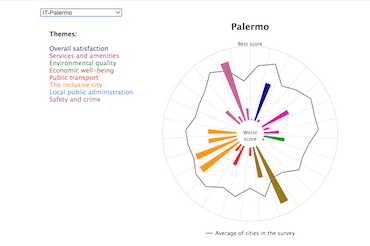 Low points for the city of Palermo
Satisfaction with public transport. Palermo answers 22% satisfied. The European average is 73 %, Zurich has a whopping 97%.
Time to get a request solved. Within the public administration. 13 % of the people in Palermo is satisfied. The European average is 56%. Again, the city of Zurich leads with 86% satisfaction.
Easy to find a job. Palermo 3%, average 42% and Prague 81%.
On-line services are easy to access. Referring to public administration. Palermo 53% agrees. General Europe 76% and Groningen (NL) 91% of the population is happy.
Happy with the sport facilities? Last place for Palermo, with 32% being happy. European average is at 74% (more than double). The Zurich people are 94% happy.
Cleanness. Palermo a mere 8% is happy. European average is 62. Happiest with 94 percent are people in Luxembourg.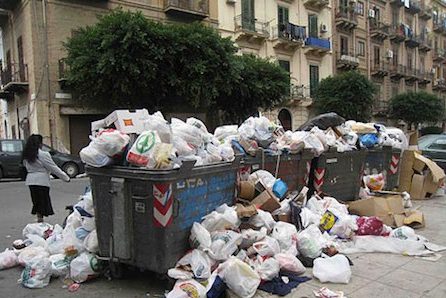 Wrong questions, right answers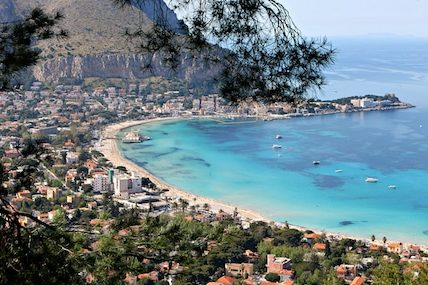 There is very little doubt the numbers are wrong. And the figures confirm the good old stereotypes. Efficiency and economy prevail. 
No questions on the quality of food. The weather. Level of entertainment. Flexibility. Dinner invitations. Friendliness. Hospitality. Permissiveness.
Do not forget that people in the south like to complain more. And that people up north are happy only if you ask them. 
Palermo can not be happy with these results. But it leaves room for improvement. Much room.