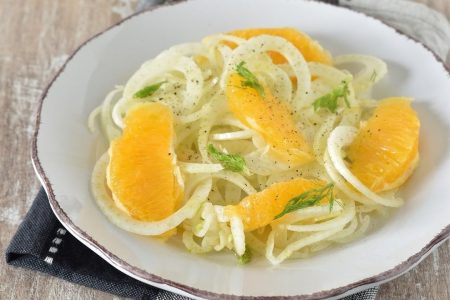 Orange and fennel salad
Both orange and fennel grow profusely in Sicily. Both in wintertime. The pale fennel hides underground, protected from direct sunlight. The orange trees instead absorb the light, they seize sun. And once united, fennel and orange, you understand they are meant to be. As with Sicilian weddings, the adornment is a must. The adding of other seasonal products make the party unforgettable.
Prep Time

10

Minutes

Cook Time

10

Minutes

Total Time

10

Minutes

Serves

4

People

Calories

100

kcal
Ingredients
2 small fennels

2 oranges

4 anchovy fillets

1 red onion (small)

1 handful of black olives

olive oil and salt
Instructions
Clean the fennel, remove the hard stalk
Slice the fennel lengthwise
Peel the orange and separate the wedges, and cut them in three equal pieces
Make sure to remove the bitter white rind
Unite all ingredients in a bowl
Season with olive oil and salt
Notes
Orange and fennel salad is more than a mere salad. It may as well serve as a
starter
, or as a main dish. Specially when served with
bread
. All variations add ingredients. An almost obvious choice are
pine nuts and raisins
. The
Sicilian signature
. Though
walnuts
mix in well too. The anchovies, though delicious, are not necessary. They can be left out or substituted with haring. What orange is preferable? Well, Sicilian ones, that goes without saying. Use oranges with
firm
flesh. And if you are in a funny mood, try blood oranges. The
sanguinella
from and around mount Etna for example. Orange and fennel salad is ideal with
fish
dishes. The use of raw fennel is interesting. Instead of merciless boiling them. No need for thick bechamel sauce, no need for gratin. Fennel works wonderfully well with fish.