More than the colour of the olive oil, make sure the colour of the bottle is not transparent. Oil tends to degrade with direct sunlight and should be stored it in a dark place. Brown bottles hide the colour of the oil, which is altogether not import. Remember that the colour of the oil and quality are not related.  The greener the better goes for frogs, lettuce and lawns, not for olive oil.
Good oil does not come cheap. Very similar to wine, cheaper versions are often a mere imitation. This does not mean that more expensive equals better quality. At a certain point on the range, just as it happens with wine, what you are going to pay for is the brand name. Consider that the price is relative: a bottle may last for over 30 cooking sessions. Without bothering you with maths, the difference per person between cheap bad and good pricy oil is about 10 percent a meal.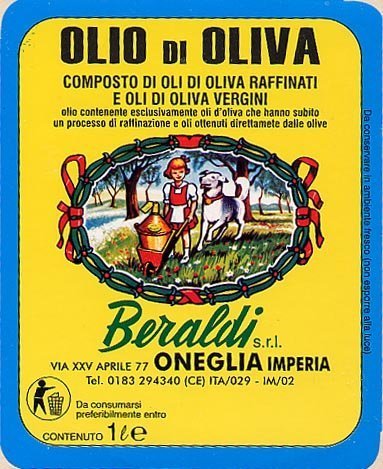 There are three features that cannot be overlooked. The  year of production must be the same as the year you are buying it in. Olive oil does expire. Secondly there is the process which must be 'cold pressed extra virgin'. Heat ruins olive oil, or at least its taste. And the health benefits. Relatively import is the provenance: it should come from one region, so avoid 'Italian or European' oils. These blended oils are mediocre by nature and produced for people who have never tasted good olive oil before.
4. Accept failure and learn
Don't get upset if the oil you bought goes down the drain. Learn from your errors. Taste your oil; sprinkle it on bread, drink it (sipping will do) and enjoy discovering new sensorial experiences. Have I told olive oil is very similar to wine tasting? Then I should mention it is also very good for your health, especially for your memory.
5. Take olive oil serious
If you do not live in an olive oil producing country and still want to use it, take it serious. Olive oil does make a difference, it is a life savior. It makes you a hero, your guests happy and your doctor redundant. Before we forget: aromatized oil are not olive oil. The base is, hopefully, olive oil, but the adding of ingredients such as chili pepper, oregano or garlic make the use difficult. And especially limited. The use of aromatized oils in Sicilian cooking is rare to inexistent.