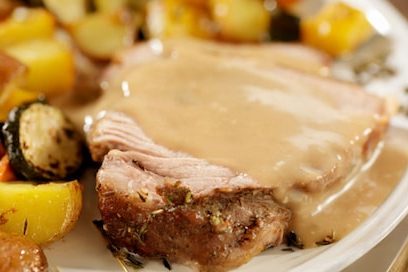 Milk braised pork loin
The old-fashioned aura makes it ideal for Sunday lunches. It is hearty and fills the emotional voids. And it brings people to the same wavelength. Where all what matters is taste and enjoying food. Pork loin tends to dry out while cooking. Whereas wine is usually the solution, we opt for milk.
Prep Time

20 Minutes

Cook Time

60 Minutes

Total Time

80 Minutes

Serves

4 People

Calories

400 kcal
Ingredients
1 pork loin, about 1kg. Let the butcher tie it up

1 liter of whole milk

50 grams of butter

Fresh rosemary and sage

2 cloves of garlic

Salt and pepper
Instructions
Sear the loin on all sides till golden brown
Season the meat
Add the herbs, garlic and milk
Let it boil for about 45 minutes, pot half closed
Remove the meat and let it rest for 15 minutes
Pass the sauce through a sift, eliminating possible clumps.
Add some cold butter to the sauce
Slice the meat and serve with sauce
Notes
Milk braised
pork loin
is an easy dish. Do not add other than the listed ingredients. Better eliminate some instead of adding.
Garlic
for example could be left out.Avoid the meat or milk burning. This is the enemy of braised meat. Using an earthenware pot resolves that problem. The bottom does not heat as metal does.There are many variants on the dish. Some use turkey breast. Others veal. And why not, it even gives a future to chicken breast.Milk gives the dish its particular taste. Changing milk, you end up with a different dish. If by 'force majeure' milk can't be used, go for coco milk.Milk braised pork loin goes well with potatoes. Oven baked potatoes in particular.Enjoy your meal - buon appetitoWe advice fresh sparkling wine to go along this dish.