Italian and Sicilian mussels are Mediterranean creatures. A bit smaller than their Spanish Atlantic cousins. And midgets compared to the Dutch giants.
Yet the taste is more outspoken. Probably due to the higher salinity of the water they live in. And although cherished by all, it is not a luxury product. 
Italians use the name, cozza,  also to indicate an ugly girl. Unfair to the mollusk as to the girls.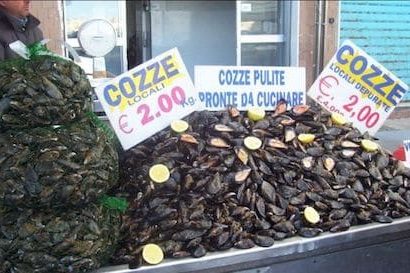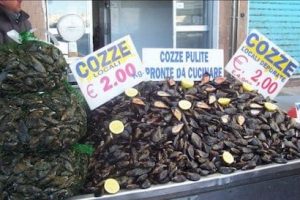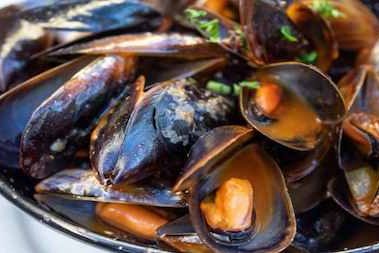 Scoppiare is the Italian word for exploding. It refers to a classic cooking technique. Mussels are added to hot oil and garlic. Once covered they make a particular noise, vaguely resembling explosions.
Some add white wine or even balsamic vinegar. It is an honest and widespread way to prepare them. And with a generous adding of black pepper you obtain 'pepata' (impepata). 
One more thing about this recipe: you never have enough mussels.
3. Happy afterlife for mussels
Set mussels aside. Don't count on the fact some will remain. Remove the mollusks from the shells and keep them covered in foil. Few things are as tedious as dried out mussels.
Mix the cut up mussels with milk soaked stale bread, cheese and an egg. To sign it Sicilian one may add pine nuts and raisins. Excellent as starter or aperitif.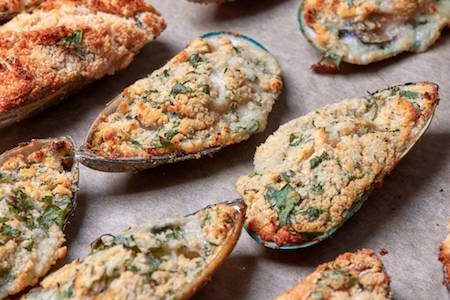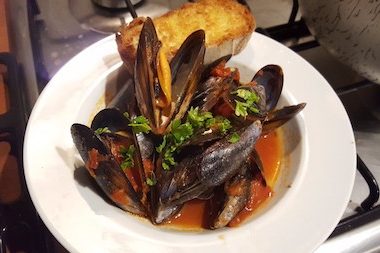 This soup is actually a variation on 'exploding mussels'. The difference it he adding of peeled and diced tomato. And often a whole lot of chili pepper. 
Serve the soup with toasted bread and a drizzle of olive oil. Many cities and regions claim paternity over this dish. Then again, ain't the mom of envy alway pregnant?
Pasta with tenerumi is a classic in the Sicilian cuisine. It brings relief on hot summer days. And it is a dish Sicilians dream about when too long abroad, How could this be improved? Yes indeed, add the mussel that remained the day before. 
Few things in life are as up-lifting. A designer dish with popular roots.