You cannot peel a melograna, a pomegranate. To get the seeds, cut the fruit in two halves. Some manage to do so by twisting the fruit. Demigods.
The seeds are held together by a membrane. So hold the pomegranate over a bowl and hit the rind with the back of a spoon. The hail of red grains is a true marvel.
You may pick the grains one by one. It is a slow yet relaxing way to obtain the grains.
If you want to juice, just cut the fruit in two halves.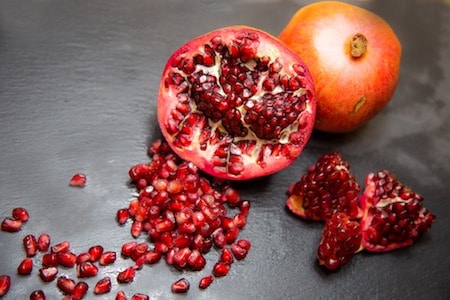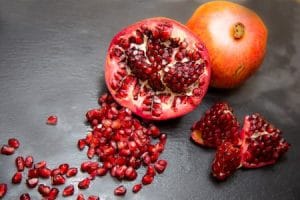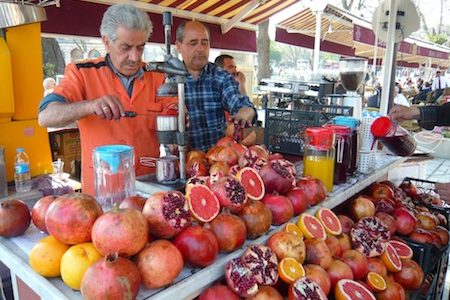 No need to pick melograna seeds when juicing. Cut the fruit in half and press. Make sure to sift the juice. You can serve the juice pure, as it comes. Or sweeten it by adding orange juice.
In times of profusion you may freeze the juice. Pure or mixed. A valid alternative is preparing granita or ice cream.
Pomegranate juice goes of after three days. When stored in the fridge. Shake before serving.
3. Surprise in your Salad
Adding melograna seeds to your salads is a winning move. They adorn salad as jewelry does with people. Envied by those who are without, relished by the lucky owners. Adding the red gems is very much like gifting a jewel.
They go wonderfully well with lettuce, eggplant and baby spinach. The crunch compensates with the smoothness of the latter. Don't forget that pomegranate is sour more than sweet. So do not any lemon or vinegar.
Pomegranate juice comes in various forms. Simple juice is an excellent base for innovative cocktails. A pomegranate Margarita is a fine example. The sweet tartness matches tequila and balances with Cointreau.
Pomegranate rosolio is a gem. A traditional welcome drink in Sicily. Not easy to find but so well worth the effort.
Liquore al melograna can replace vermouth in your Americano cocktail. And it makes a hell of a  Negroni.
5. Fancy, fancier fanciest
A pomegranate is a beautiful fruit. Whether intere of opened. That is why they often adorn tables as a centerpiece. 
A fancy way to have pomegranate is with cream. Make sure to press some seeds in order to obtain that pretty pink colour.
Another interesting juice is adding melograno seeds to sparkling wine. They reminded us rose petals on a bed…