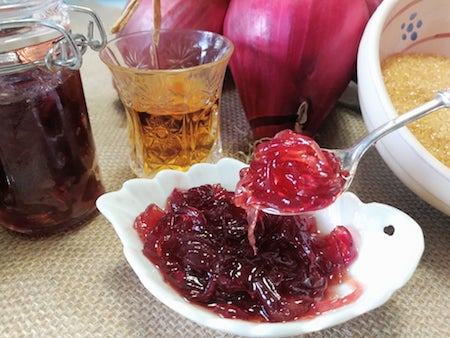 Marmellata di Cipolle
Yes, this marmellata can be served with seasoned cheese. But please don't limit it to this pairing. It is excellent on toast, with white and pork meat and in yogurt.
Prep Time

15 Minutes

Cook Time

45 Minutes

Total Time

60 Minutes

Serves

4 People

Calories

525 kcal
Ingredients
1 kg of onions

300 grams grams of sugar

200 ml of white wine

1 glass of brandy

1 bay leave

A pinch or salt
Instructions
Peel the onions thoroughly
Slice the onions and transfer them in a bowl
Add all the other ingredients
Mix and cover with cling flim
Leave it sitting in the fridge for at least six hours
Remove the bay leaf
Transfer the mixture to a pot
The marmallata simmers for about 40 minutes
Sterilize your jars before adding he marmallata
Notes
Marmallata may be a
confusing
name. It is different from the English marmalade. There is no citrus fruit involved. It is though neither a jam since it does not contain fruit. Nor a jam. And
chutney
does not cover our creation since it is not savory. Let's stick with marmallata and be happy, ok?What
onion
to use? Italians use the red
Tropea
variety. They are sweet by nature. But any kind of onion does the trick. Sharper varieties may need more sugar.Talking about sugar. We used caster sugar. Cane sugar or
panela
are fine. Don't forget to
mention
it when serving guests.About the white
wine
. Use decent wine. We used
Yrnm
zibibbo wine by Aziende Vinicolo Miceli.Instead of brandy, cognac or
armagnac
are more than fine. Aged rum does give the recipe a particular touch. Though maybe it is just a little over the top.