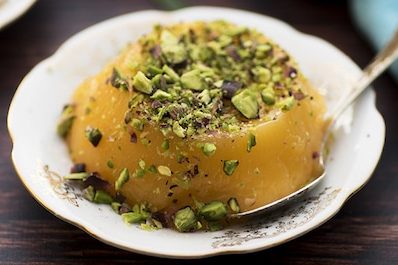 Mandarin gelatin, gelo di mandarini
What makes a mandarin great? It's not just the fact they are easy to peel. A mandarin is overall sweeter. The presence of seeds often turns people off. And leads them to the seedless clemantines. Other citrus fruit can be used here. After all it is a procedure more than a recipe. Our personal preference goes to mandarines.
Prep Time

15 Minutes

Cook Time

10 Minutes

Total Time

25 Minutes

Serves

4 People

Calories

125 kcal
Ingredients
500 ml of filtered mandarin juice

100 grams of sugar

70 grams of corn starch

The zest if half a mandarin
Instructions
Squeeze your mandarins
Filter the pips out
Dissolve the starch in a cup with a ladle of juice
Unite the sugar and juice in a pot
While heating up, add the dissolved starch
Stir in order to avoid clumps
Turn to heat off as soon as it starts bubbling
Pour the gelatin in forms and let them cool down
Top them off with mandarin zest
Notes
Mandarin
gelatin
is not a difficult dish to prepare. Though it makes an excellent impression. Fragrant, elegant, pure. One may top the gelatin off with grated almonds or pistachio. You can steer this dish in two directions. Towards sweetness, adding more sugar. Or the citrus way, adding the juice of a
lemon
. The use of starch is interesting. This results in an opaque dessert. And somehow it gives body to the dish. Whereas transparency often results in excessive lightness. This is a down to earth recipe after all.And do not forget it is more than a mere dessert. Wonderful for breakfast, nice as a late morning snack. Or just spoon away for no occasion at all.